Since I began sewing a few years ago, patterns scurrrrred me. It wasn't until I began my job at the locally owned fabric store that I work at that I was able to get up enough courage to sew something from a pattern.
SO, this Summer I have deemed the Summer of sewing patterns!
And guess what? I have some fun giveaways (with designers!!), guest posts, and other cool stuff lined up all about sewing patterns!
(click
HERE
to see other posts)
---
Hi Friends! I truly hope you have enjoyed this series this Summer. I may continue it on a monthly basis throughout the year, but I haven't quite decided yet!
I mentioned earlier in the series that we would do a SEW ALONG! And I am here today to announce when//where//how//what!
I have ALWAYS wanted to sew this little cutie, so I thought this Sew Along would be the perfect time!
The Sew Along will be held RIGHT HERE on August 23rd.
All you have to do is post on your blog & link up here.
I hope a bunch of you choose to participate. I'd love for you to promote this on your blog, twitter, etc!
(feel free to grab this button & link back here!)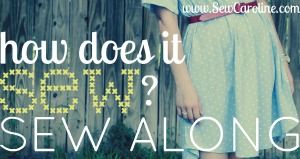 AND please, RSVP in the comment section below :)