Join me on October 13th, 2011 to share your favorite Fall recipes! This can be a review you have done on another persons recipe, your very own recipe, or a recipe you have blogged about in the past! My goal is to have a database of yummy recipes that people can look back on all Fall for some go-to meals & snacks!!
Grab this button for your blog and promote the link up, if you will! :)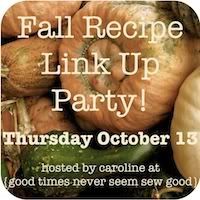 ---

This linky list is now closed.