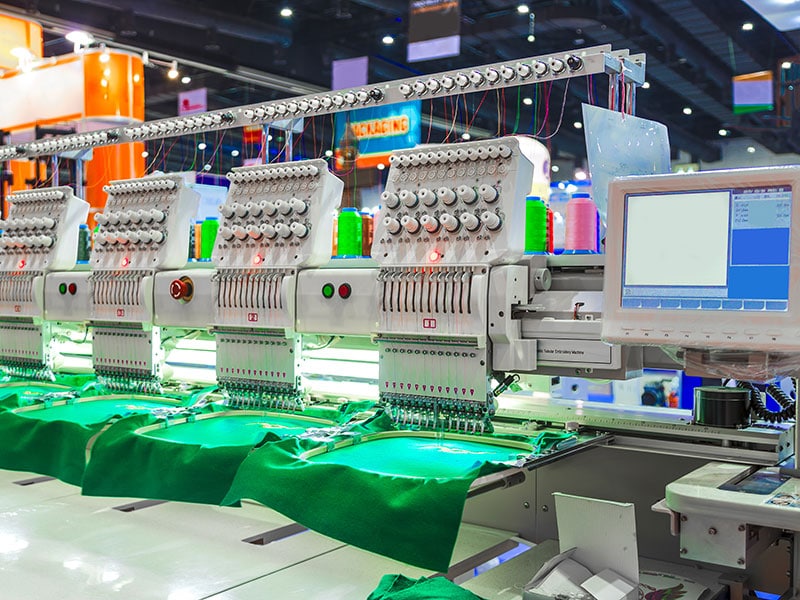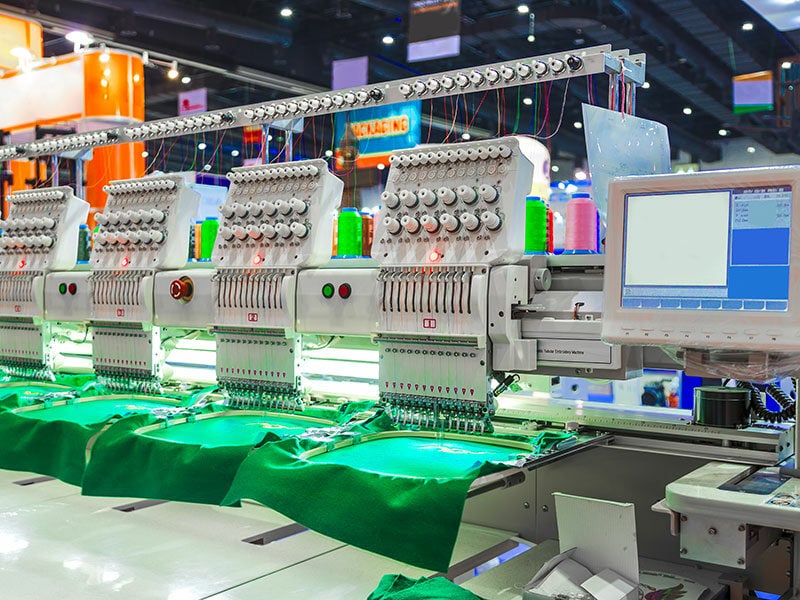 How much does an embroidery machine cost is a regular question of almost all newbies in this field since you have to invest in a lot of materials to get an excellent item than you think. If you don't prepare this knowledge, you probably have to drop it while embroidering process.
In case you are in the same situation, don't worry since I will provide you with all information relating to embroidery machine costs, and you can start your tasks without missing anything.
Are you curious about what you need for an embroidery project? Let's take note of these costs in your notebook and go shopping for them.
You Should Spend How Much On An Embroidery Machine?
Here is the estimated cost for embroidery machines that are divided based on different elements, including purposes and types.
Embroidery Machine Cost On Purpose
Home Embroidery Machine
Under $500
Between $500 and $1000
Above $1000
Commercial Embroidery Machine
Under $1000
Under $5000
Above $10000
Industrial Embroidery Machine Cost On Type
Single-Head Industrial Embroidery Machine
Multi-Head Industrial Embroidery Machine
Wide-Area Industrial Embroidery Machine
Why Should You Own An Embroidery Machine?
I will bring you several advantages for owning an embroidery machine. It is not cheap for picking 1 device, but I am sure it is worth investing in.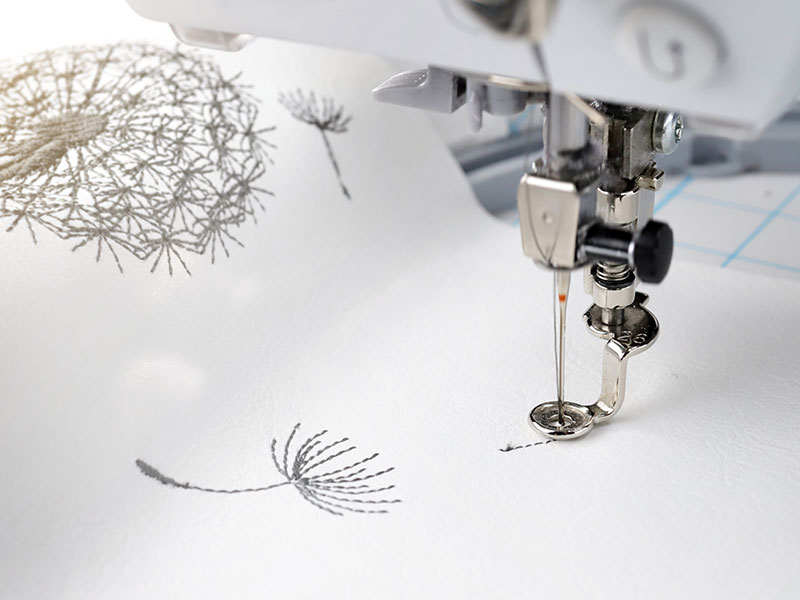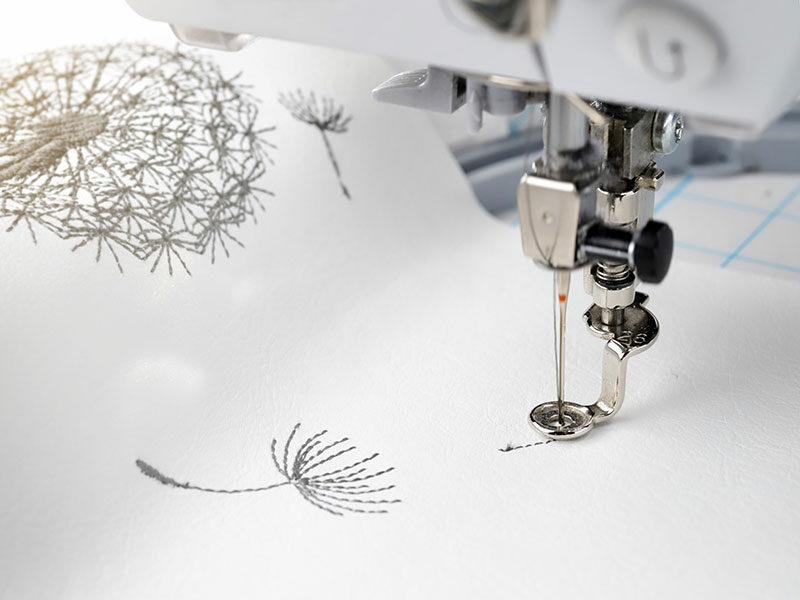 Promote You Imagination
When you see any eye-catching designs on the Internet, or you want to create exclusive patterns and apply them to your T-shirts, hats, and more, the excellent way is to use an embroidery machine.
This device can run effectively on various surfaces, including denim, cotton, velvet, or even heavy-duty fabrics, and you can operate it any time of the day.
Almost advanced machines can connect to your computers and are easier to use than the traditional ones; thus, if you are a newbie, you still control it well.
Output Massive Products
If you have a plan for a startup embroidery business, purchasing an excellent embroidery machine will help you produce items with a large amount in a short time; therefore, the cost of embroidery products can be decreased. (1)
Embroider More Colorful Projects
When you choose to use an embroidery machine, you will simply embroider with various colorful threads. It offers you a larger embroidery area compared to embroider manually, and the details can reach to delicate level.
How Much Does An Embroidery Machine Cost?
Costs of an embroidery machine can vary from $500 to above $10000 for you to choose from. Depending on your budget, you can freely pick the suitable one for you. To help you categorize many embroidery machines, I will provide you their costs based on the following elements.
Embroidery Machine Cost On Purpose
Not all embroidery machines offer you the same features; that's why you need to consider the reasons for buying them, what purpose they can serve, and more to pick the right machine. Depending on the purpose of use, you can choose a home embroidery machine or a commercial embroidery machine.
Home Embroidery Machine
Home embroidery machines are perfect for home use since they have a compact design and a small motor. Therefore, their price is lower than the commercial ones. If you are a beginner, home embroidery machines are worth investing in. You need to spend money between under $500 and above $1000 owing to a device.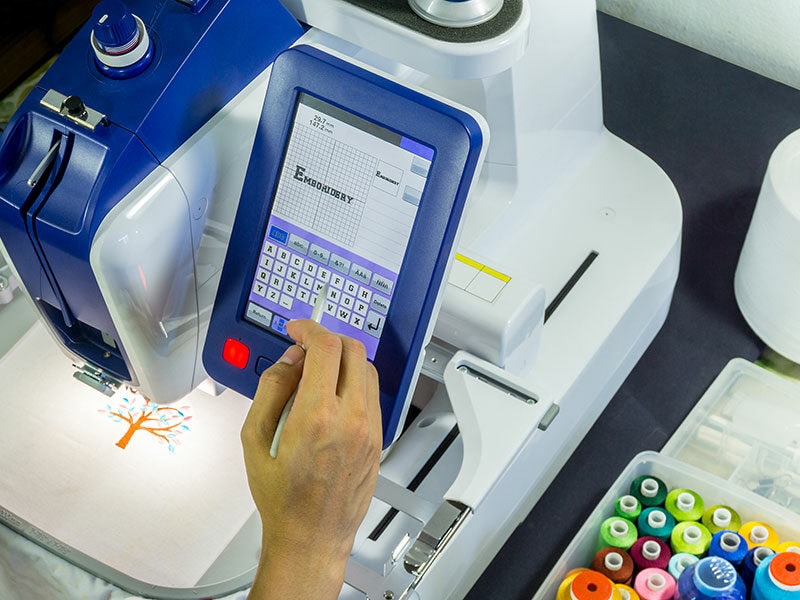 Before digging into detailed information about these embroidery machines, you should take a quick look at the following chart. This table will clear out your wonders about their features and costs.
| Significant Features | Approximate Cost |
| --- | --- |
| Consist of < 100 integrated design, 4" x 4" work area | Under $500 |
| Offers various designs and stitch styles, 5" x 7" work area | Between $500 and $1000 |
| Infinite embroidery designs and stitch kinds, having software | Above $1000 |
Under $500
A basic embroidery machine has the lowest price compared to others, and it can implement your essential wishes, including simple embroidery design or working on small surfaces. The significant information you need to notice that this appliance doesn't have an integrated computerized feature.
If you are a beginner and want to use an appropriate embroidery machine before investing many dollars in high-end machines, you can start with this basic device. You can embroider several simple styles because it can provide you with nearly 100 designs.
In addition, this machine has a simple construction, and it is pretty difficult for you to differentiate between it and the sewing machine at first sight, yet you can see a screen on the embroidery machine to realize it.
Between $500 and $1000
For this price range, you can get a simple computerized embroidery machine. This price is not too low or too high to own this appliance. If you have understood a few features of the embroidery machine or know how to operate it, purchasing it for home use will be an excellent selection.
Due to its higher price, this device will provide you more design and stitch styles for your projects. Moreover, it is constructed with an LED screen to choose a perfect pattern as almost machines easily.
Moreover, besides necessary offers, it also brings you other built-in aspects, including automatic thread cutters and needle thread. You will have products with larger sizes due to its work area is 5″ x 7″.
Its design is compact, and you place it in your room for a pretty spacious corner. It will be a perfect gift for embroidery lovers.
Above $1000
The home embroidery machine in this price range can be considered high-end products and can serve you with unlimited embroidery designs and stitch styles. So why can this machine do that?
The key is a USB card. So when you see any beautiful design on the Internet, all you need to do is to download it and apply this pattern to your fabric. The downloaded designs will be kept on the card, and you can use them later.
In case you are dreaming of a startup company in the embroidery field, don't hesitate to try this appliance. It has built-in software and features numerous hoops that allow you to embroider in various stitches and can serve the small enterprise.
Don't forget to make use of the remote that comes with this device when you buy it. You can choose and control your embroidery machine without coming it closer. In addition, you can alter the original design by choosing ten colors in the color warehouse.
Please prepare for your stable knowledge when deciding to purchase this high-end embroidery machine as it is no small investment. Make sure you can use almost or all its features to avoid wasting your precious money.
Commercial Embroidery Machine
When you plan to run a bigger company or just simply need to use a more flexible and powerful embroidery machine compared to home ones, you can take into account picking the commercial one.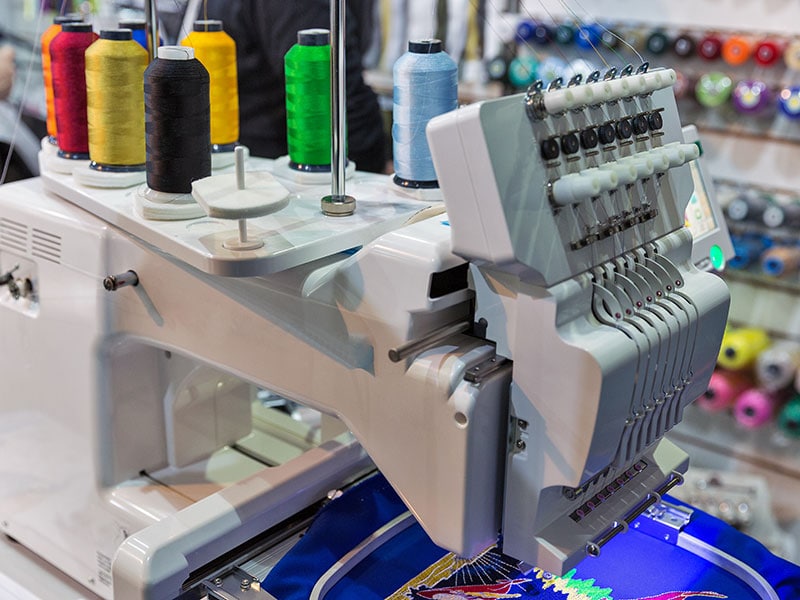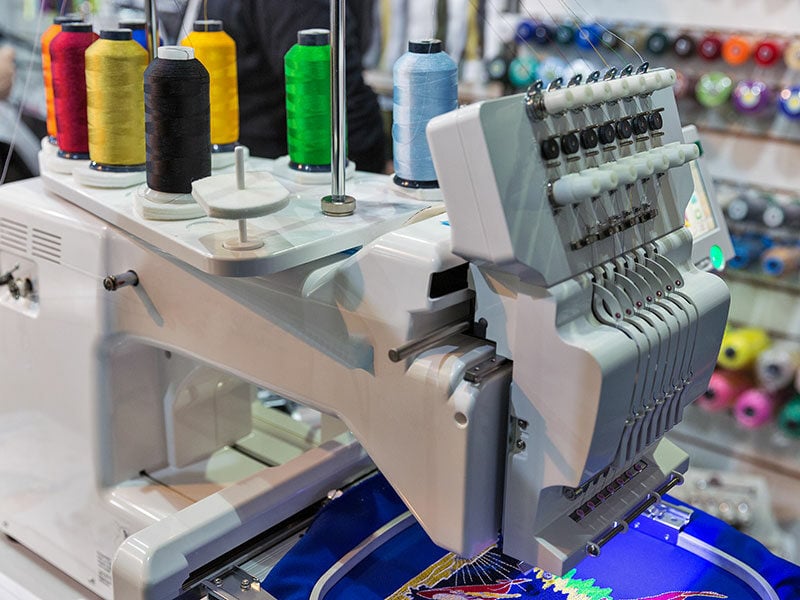 Its name also implies that the price is quite high, but the productivity will not disappoint you. It will include a lot of components and needles to perform your design the most exactly. The more needles the machine has, the more detailed patterns it can produce.
As I mentioned, you need to prepare a big wallet when choosing it since the cost will be from under $1000 to the infinite price as long as you are willing to spend. First, let's see the chart to have an overall view of features of each price range.
| Significant Features | Approximate Cost |
| --- | --- |
| Offer more designs and stitches, including USB, automatic thread trimming | Under $1000 |
| Perform well in a few heavy-duty fabrics, can connect to your computers | Under $5000 |
| The high embroidery speed allows you to embroidery on oversized fabric and constantly work for almost 24 hours per day. | Above $10000 |
Under $1000
For a home embroidery machine, approximately $1000 is a good investment in the powerful machine, while for the commercial device, this price is the cheapest. Therefore, you can purchase it instead of a high-end home embroidery machine.
You don't need to be afraid of designs and stitch kinds when using this product since it offers you more features than you think. However, it only can be in charge of the limited task as it is designed with 1 needle.
If you only embroider thin material, the number of needles will not be a problem; otherwise, you should consider buying it for thick fabrics. In addition, the functions of this device are automatic thread trimming and USB carb that can promote you for picking it for small business or home use.
Under $5000
If you have never searched for a commercial embroidery machine, you probably will be surprised at this price, yet it is not the highest price you can spend for the one.
Besides providing you more patterns, you can believe in its penetrating capability into thick materials, even in a few layers of denim.
You can embroider more exclusive styles by downloading from the Internet or designing on your own because it can connect to your computers. Your imagination will not be limited anymore. So let's chill and create excellent projects.
For each product within this price range, you can get more functions that others don't have. The work area can be expanded since there is no barrier around the embroidery area.
Above $10000
How much money are you ready to spend on a commercial embroidery machine? If dollars are not your barrier, owning the pricey device will be a perfect choice. The higher price it is, the more functions it offers you.
This machine is equipped with more needles to increase its embroidery speed that can be up to 1200 SPM, and the lower machine cannot meet. The number of embroidery patterns and stitch kinds are not counted for hundreds yet are counted up to millions.
The bulky size of this appliance has both disadvantages and advantages. If you have prepared a spacious room for it, you can clear out these cons; otherwise, let's think about it in advance since it will take you a significant room to place it.
The oversized device will help you solve more projects, including embroidering large fabrics and easily performing on hats and quilts. You can operate it constantly for almost 24 hours per day that is also a big plus for you.
With its massive pros, I recommend you use it for your business to promote its full options, and it will not disappoint you.
Industrial Embroidery Machine Cost On Type
You need a big budget to own an industrial embroidery machine; thus, you should consider carefully before making the right decision. If the price range is not enough for you to decide, you can reference the cost of an industrial machine base on its kind.
It costs about $5645.2 to $15524.3 for a single-head industrial embroidery machine, while multi-head embroidery machine costs between $8467.8 and $42339. In addition, investing in wide-area industrial embroidery machines needs about $14113 to $21169.5.
Your business needs to reduce the cost of embroidery machines as low as possible; however, you should not focus on price and forget to consider the functions. Therefore, let's read through the features of each type to choose the excellent ones.
Single-Head Industrial Embroidery Machine
This kind of machine does create high-quality projects and has a reasonable price that helps it become one of the most hunted embroidery machines for small enterprises.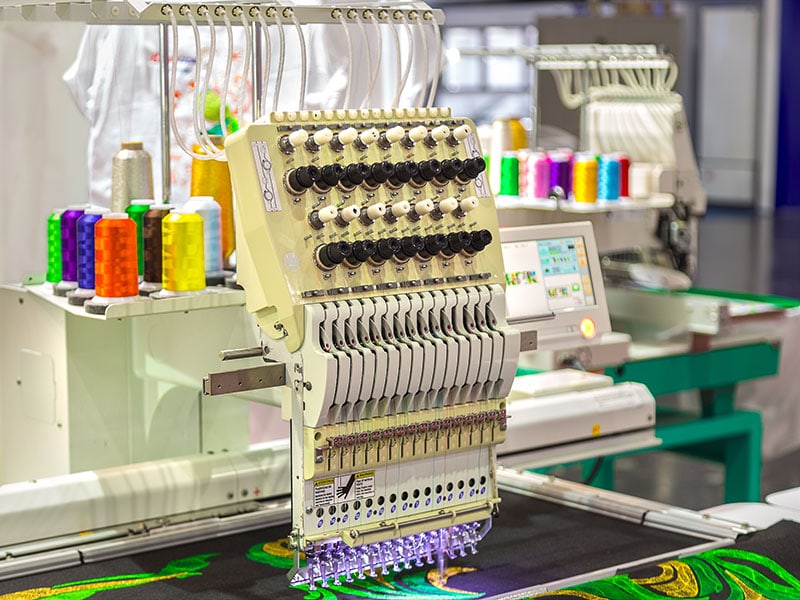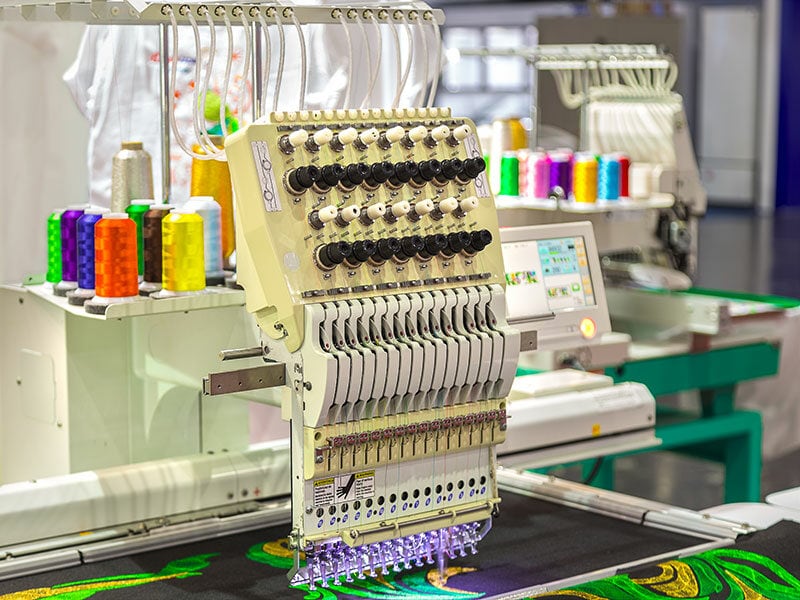 This single-head industrial embroidery machine is a perfect step for your startup company. As its name implies, this machine is designed with a single head. Thanks to its construction, it has a compact design and space-saving for you to install.
Its head only contains 7-15 stitching needles; thus, it is suitable for producing consistent patterns, which means your designs have fewer changes than the previous ones. Its price is between $5645.2 and $15524.3 that is worth trying.
Multi-Head Industrial Embroidery Machine
Using a multi-head industrial embroidery machine can be considered good progress for your company. In this stage, you will get more orders with massive projects; thus, transforming to this device is essential.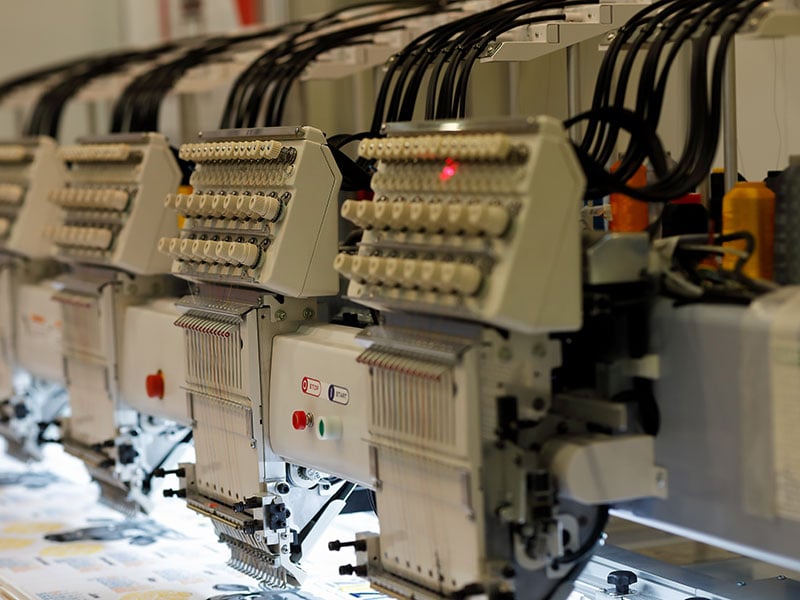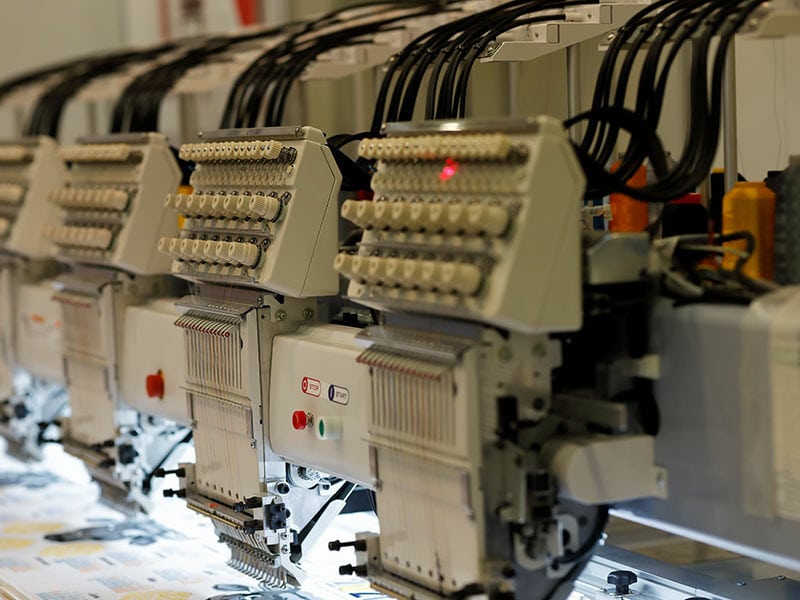 The appliance is constructed with multiple heads, such as 2,4,6, or more that will help you manufacture twice or even 12 times as many products compared to a single head. That's why it is more expensive than a single-head one.
It is designed for commercial use; therefore, it can constantly work for a long time and output numerous stitches on fabric in a short time. It can remember for up to 1000000 stitches, and the highest speed can reach 750 RPM.
However, you need to prepare a large space to install it since its size is quite large. Besides, you have to pay from $8467.8 and $42339 to own this appliance.
Wide-Area Industrial Embroidery Machine
If you want to embroider on a large surface, you should pick a wide-area industrial embroidery machine. The wide-area machine is transformed from a standard single-head or multi-head embroidery machine.
The wide-area version is designed around a larger work area; therefore, its price is not too different compared to other kinds. The spacious room will allow the needles to move from this side to the other freely and create embroidery stitches on rugs, duvets, and more.
Normally, this wide-area industrial embroidery machine comes with a detachable table to help you adjust the embroidery area quickly. It is proven to meet all your requirements and its cost range from $14113 to $21169.5 for long-continued growth.
I have summarized the significant features of both 3 kinds of industrial embroidery machines in this chart. So let's check it out.
| Type | Features | Price |
| --- | --- | --- |
| Single-Head Industrial Embroidery Machine | Designed with single-head, consist of 7-15 stitch needles | $5645.2 to $15524.3 |
| Multi-Head Industrial Embroidery Machine | Constructed with 2,3,6 or more heads, memory capacity is up to 1000000 stitches, and speed can reach 750 RPM | $8467.8 and $42339 |
| Wide-Area Industrial Embroidery Machine | Transformed from single-head or multi-head machine, come with detachable table | $14113 to $21169.5 |
Extra Cost You Need To Pay For Embroidery Machine
Besides the cost of the embroidery machine, you need to know several additional costs when operating the machine.
Embroidery Software
It is not overestimated when I say various embroidery software has contributed to the development of the embroidery field. Moreover, you can convert any patterns you find on the Internet into your fabrics.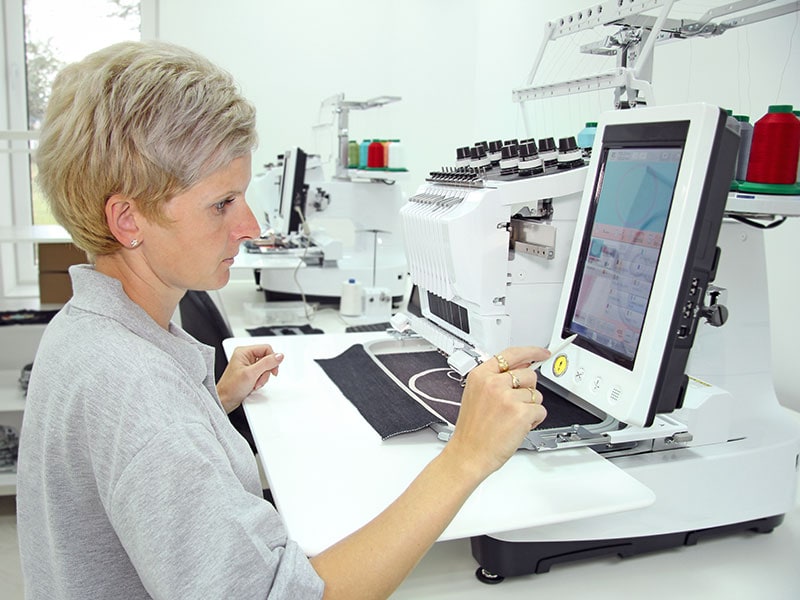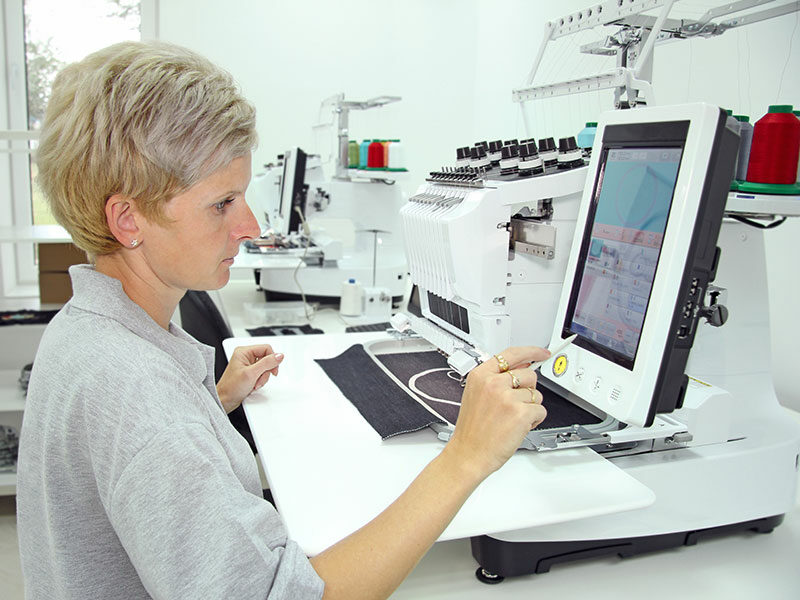 The software is designed for all people loving embroidery; thus, it is easy to understand its operating principles. All you need to do is to click and save the designs to your computers. Its function also helps you produce massive projects.
You only need to pay 1 time for the chosen design, and this pattern will be used many times in the future. The cost is usually based on the thread color changes and the number of stitches you plan to embroider. You have to spend about $20 to $30 on average for digitizing per design.
The table below will help you simply contract the different prices for digitizing.
| | |
| --- | --- |
| Average Cost | Between $20 and $30 |
| Low End | $10 |
| High End | $60 |
Thread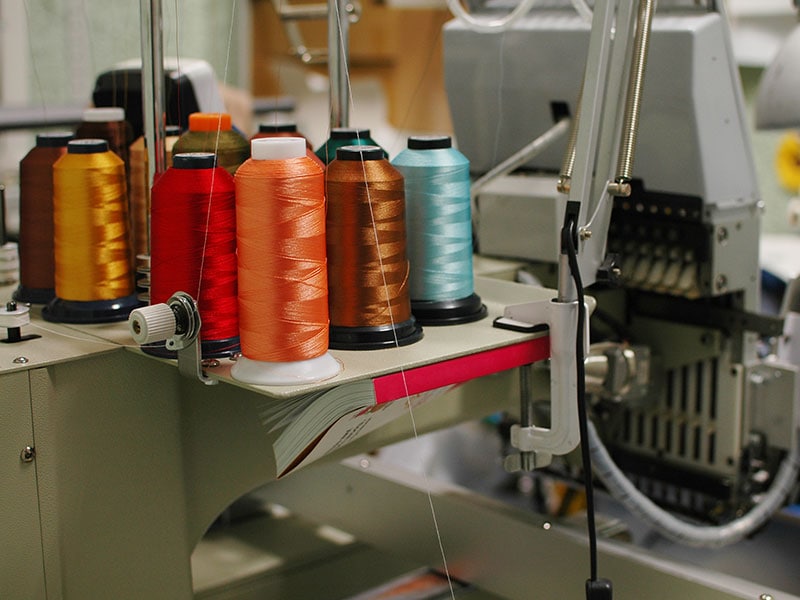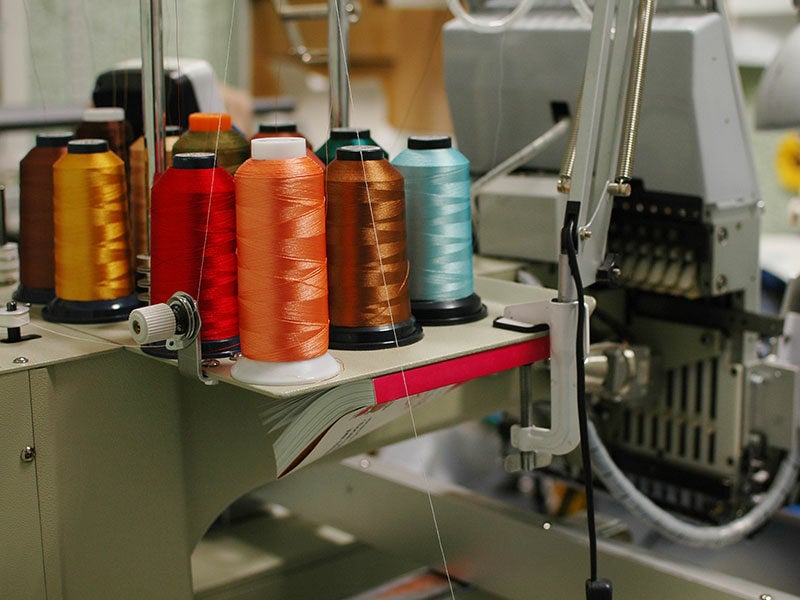 You cannot output embroidery projects without color threads; thus, you can calculate them into the costs for an embroidery machine. Although their prices are not too high, you should know to choose the appropriate threads.
The high-end threads are wound in 5500 yards per spool; you need to pay from $7 to $9, while each spool can output for up to 1 million stitches.
Besides, if you use special threads, you can spend about $20 or more to own a cone of metallic thread, or every thousand stitches will cost $0.6.
Bobbin
The premium bobbin is made from filament threads that cost less than $60 per gross that means 1000 stitches only cost $0.008. Therefore, choosing an excellent bobbin cannot increase the cost of embroidery machines dramatically.
Pre-Cut Stabilizers
The cost for stabilizers is pretty high compared to bobbin and threads, yet they are an essential accessory when running an embroidery machine. You can calculate on your own by dividing the entire price for the counts.
The 500-sheet pack has 6″ x 6″ size; you need to expense about $17. However, these sheets will help you tear conveniently and work productively for large stitch counts. If you purchase this pack, $0.033 is the price for each count.
Where Can I Purchase An Embroidery Machine?
If you are a beginner and wonder where you should buy an embroidery machine, let's reference 3 suggested sellers that I think are enough reputation to believe.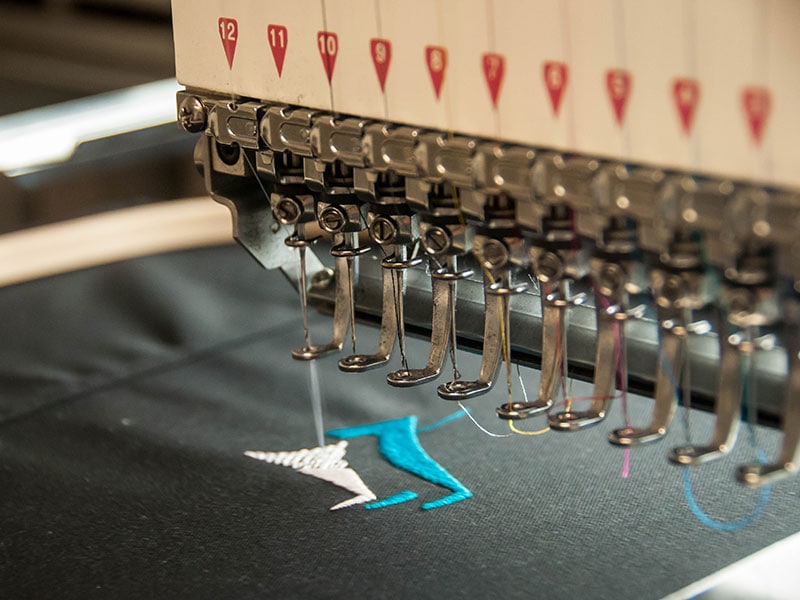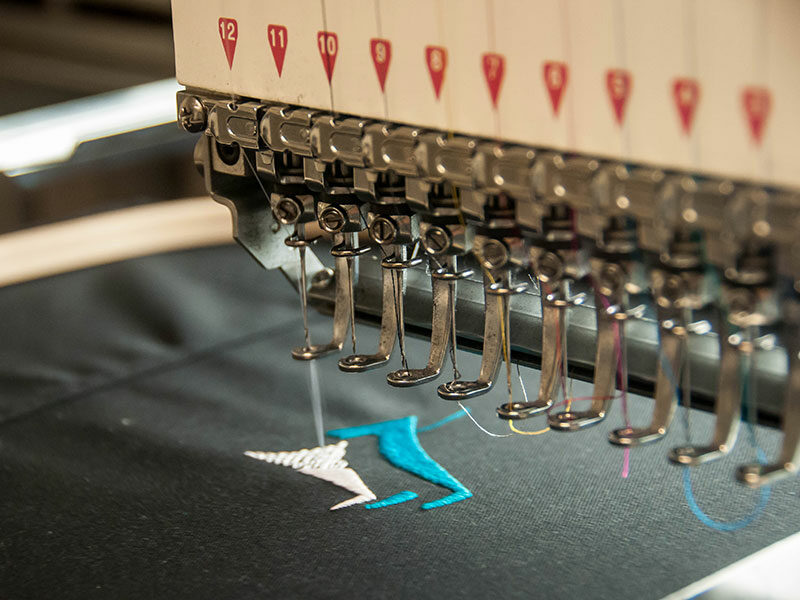 Local Store
The traditional buying method is to go to a store that sells embroidery machines and choose the suitable one for you. This way can take you a lot of time to drive cars; however, the results will meet your requirements.
The assistants in these stores are well-trained to answer your questions and suggest the best embroidery machines for you. You should tell them several ideas about your purpose, willing budget, and more to get optimal suggestions.
Online Platform
Online platforms are thriving quickly that offer you more options to purchase anything, including embroidery machines. You can reference thousands of machines at various prices, and one of them will implement your wishes.
You can have 2 methods to get this machine: using shipping service or receiving at a local store if convenient. These platforms also have comment box chat, and you can consult the buyers for more information.
Liquidators
Investing in an embroidery machine will take you a lot of money; thus, many people find liquidators to purchase used devices. However, these appliances are still good to use; you can buy them and continue embroidering later.
The big plus of this method is you will get a discount. So this is a perfect choice for beginners who want to use the machines without spending too much.
FAQs
Here are several frequently asked questions relating to embroidery machines as well as their costs. Then, you can refer them and choose an appropriate device for you.
Choose An Excellent Embroidery Machine For You And Your Budget
You need to determine which kinds of embroidery machine you would like to invest in when you plan to buy the one. The type of device will decide its price and the functions you can get from it.
I know the cost of an appliance is not cheap, plus the additional costs that will make you hesitate to pick it. However, there are many ways to help you own 1 machine, and the optimal way is to buy a used machine.
Please think of your wallet before purchasing anything. The home embroidery machines or single-head ones are the perfect options for domestic purposes. Besides, the size is not too bulky; you can easily arrange a room for it.
If you have any questions relating to the embroidery machine or its cost and any useful tips to reduce the cost of the embroidery machine, don't be shy to share with people by type several words via the comment box chat below. I will read and reply to all your texts as soon as possible and remember to visit my site to reference more valuable topics.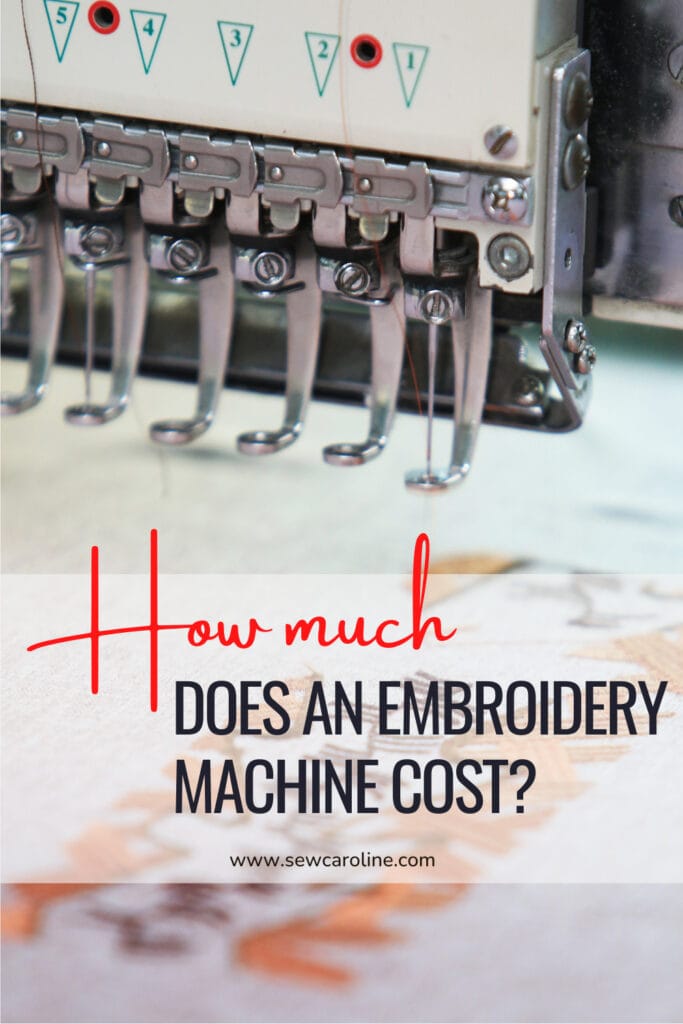 References
How Much Does Embroidery Cost?