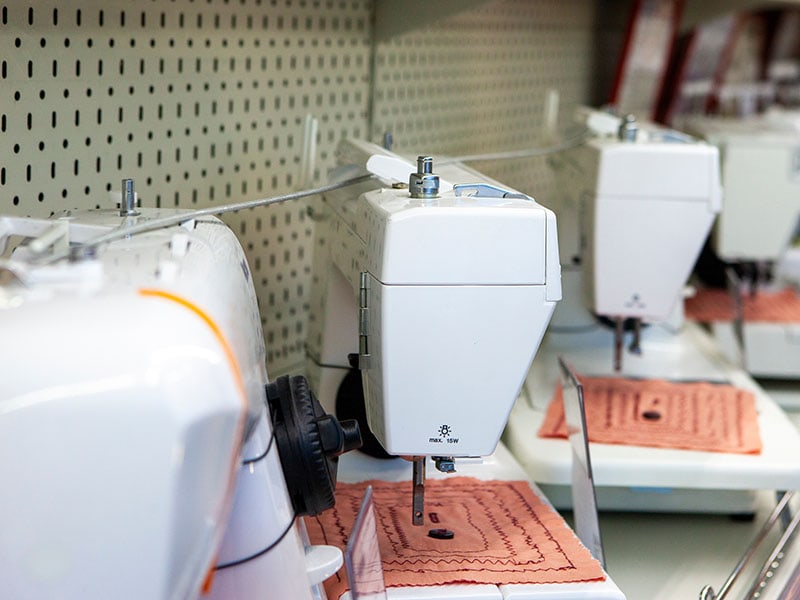 When choosing a sewing machine to buy, there are lots of different brands to choose from. Some brands have been around longer than others, and some are known for specific types of machines or sewing.
Here I'll walk you through the major sewing machine brands on the market today to help you with your sewing machine research.
Some of the sewing machine brands here might be familiar to you for other products – Brother sells printers, Mitsubishi and Toyota make cars and industrial sewing machines too.
My list is in alphabetical order, as it is hard to determine one "best" brand as different sewing machines are better for different people depending on what they plan to sew, and how heavy duty and durable a machine they need.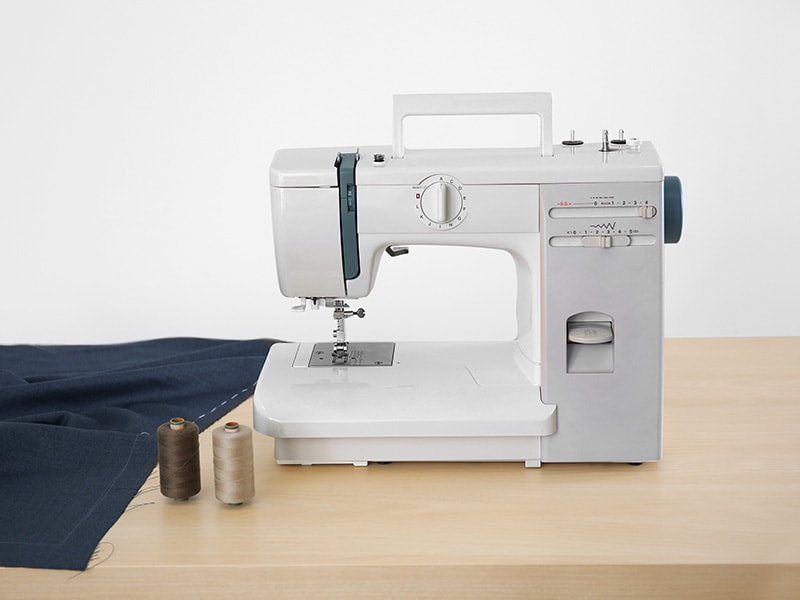 What Are The Most Popular Sewing Machine Brands?
While I will cover more sewing machine brands, these are the most popular ones for home sewers:
Baby lock
Bernina
Brother
Elna
Janome
Juki
Pfaff
Singer
Husqvarna Viking
Different brands have a different brand story, features, price point and target customer. Here is an overview of some of the most important things about each brand, such as what they are known for and a bit of their history.
Most Popular Sewing Machine Brands For Home Use
Below are the most popular sewing machine brands. I've included information about the brand's history, values, and what they are known for.
For example, Bernina is known for superior quality with a price tag that proves it, while other brands might be more suitable for shoppers on a budget looking for the best value.
Elna is known for innovation – it was early to adopt digital sewing machine technology and overlock stitches for home sewers.
Let's get started!
Baby Lock
Baby Lock makes sewing, quilting, and embroidery machines as well as sergers. Ease of use (most models come with easy/automatic needle threaders) and quality is what this brand is known for. Some of their machines have a knee lift (to raise the presser foot more quickly than the presser foot lever), which is not common with most home sewing machine brands.
These machines aren't sold online – you have to go to an authorized retailer. Staff at authorized retailers are known for providing a good customer shopping experience, are knowledgeable and can help you find a machine that suits your needs and budget. Often, you can test a machine in-store.
Baby Lock machines are available at a variety of price points: there are beginner machines such as the Joy, mid-range sewing machines like the Brilliant, or deluxe embroidery machines for example the Altair.
Watch this video to know more:
Bernina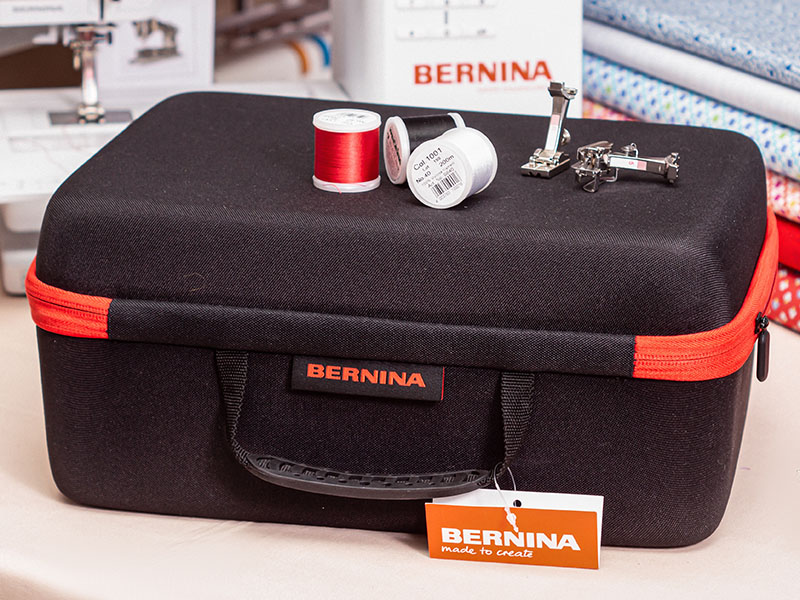 Bernina machines are well regarded for being of high quality and durable. Part of their brand is being a family-owned business that takes great pride in producing quality machines, while also working on innovative technologies and the future of sewing. Bernina sewing machines come with a higher price tag than some other brands.
You should see the video below:
Bernette is Bernina's budget-friendly sewing machine line.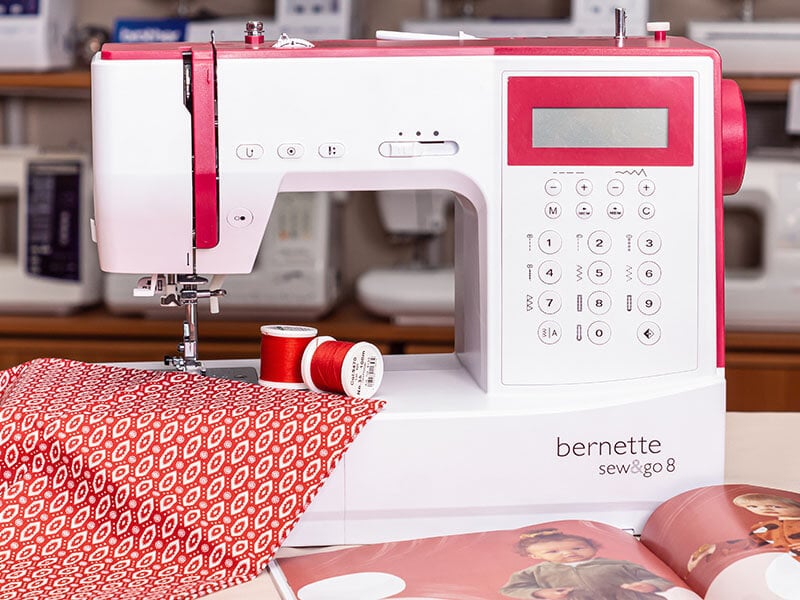 Bernette was created by Bernina to offer more affordable sewing machines that are still reliable. For beginners, there is the Bernette 33, a quality but basic mechanical machine. The top sewing machine model is the Bernette 38, an electronic model with embroidery stitches among other top features.
Learn about the Bernette 45, a great choice for beginners.
Brother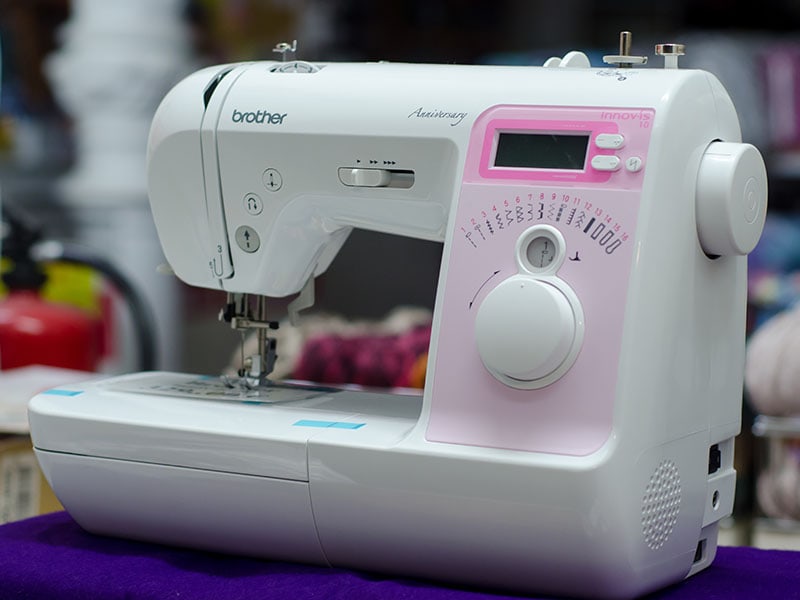 While you might be familiar with Brother printers, Brother makes a variety of home sewing, quilting, embroidery and industrial sewing machines at different price points.
Some highlights include the CP100X Computerized Sewing and Quilting Machine (great value), the XM101 10 Stitch Sewing Machine (for beginners), and the LB7000 BNDL Computerized Sewing and Embroidery Machine.
Brother sewing machines can be bought online at retailers such as Amazon and Wayfair, or at local dealers. A local dealer can help you pick the best machine for you and provide advice, but depending on where you live and if there is a dealer near you or not, you may prefer to shop online.
Watch and learn about the Brother Gx37 Sewing Machine.
Elna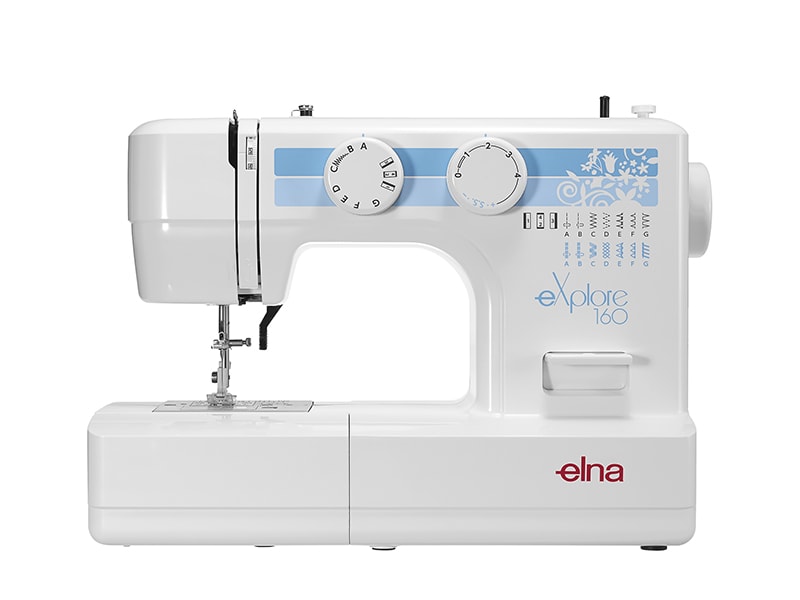 Elna is a Swiss sewing machine brand that prides itself with quality and innovation. They were the first to offer lightweight sewing machines and automatic needle threaders, and were early adopters of digital sewing machines. The first overcast stitches on a domestic sewing machine were by Elna in 1963.
Currently, the eXperience 530 Sewing Machine offers 30 stitches, enough for most home sewers. For denim enthusiasts, there is a machine made for denim, the Elna 3210 designed for denim.
Elna is also known for inventing the pressing machine (not an iron – a table with a raised portion that closes and presses fabric flat).
Let's have a look at the following video!
Janome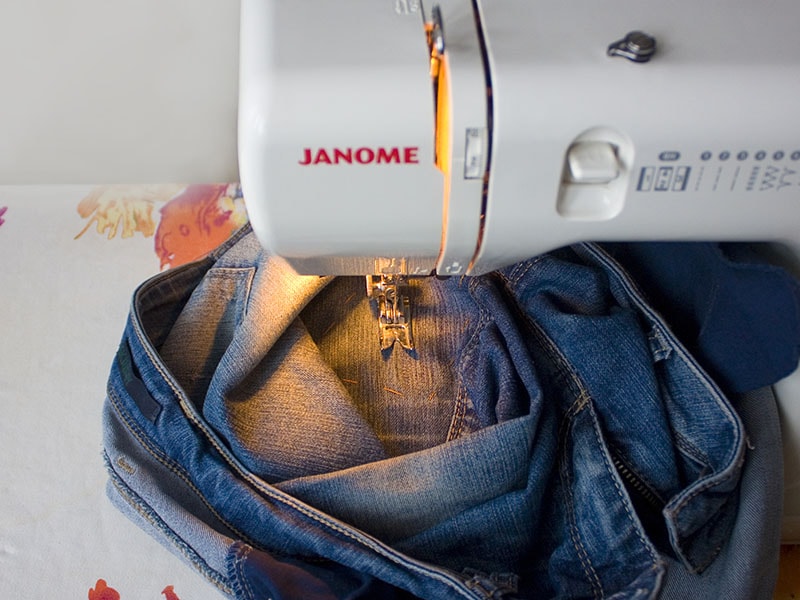 Janome is a Japanese sewing machine company known for its quality. In the 1920s the founder developed a metal bobbin with a hole in the middle which was said to look like a snake's eye – which gave the company its name. Janome's tagline is "Reliability by Design".
Janome makes quality machines for home sewing, quilting and embroidery, as well as sergers. Price points for Janome vary, with a few basic models available such as the Sew Fresh, up to the HD9 Professional which is almost a cross between an industrial and a high-end digital machine.
Janome also used to manufacture Kenmore sewing machines for Sears, but Kenmore is no longer in production.
Vintage Kenmore machines are very durable, and even though Kenmore does not manufacture sewing machines anymore, if you have a Kenmore machine that needs new parts, sometimes Janome parts will work (check with a local sewing machine repair person first as this may vary by model).
I still use a vintage (early 1990s) Kenmore machine that works well, and have had to replace a part with a Janome one.
Watch this video to know more:
Juki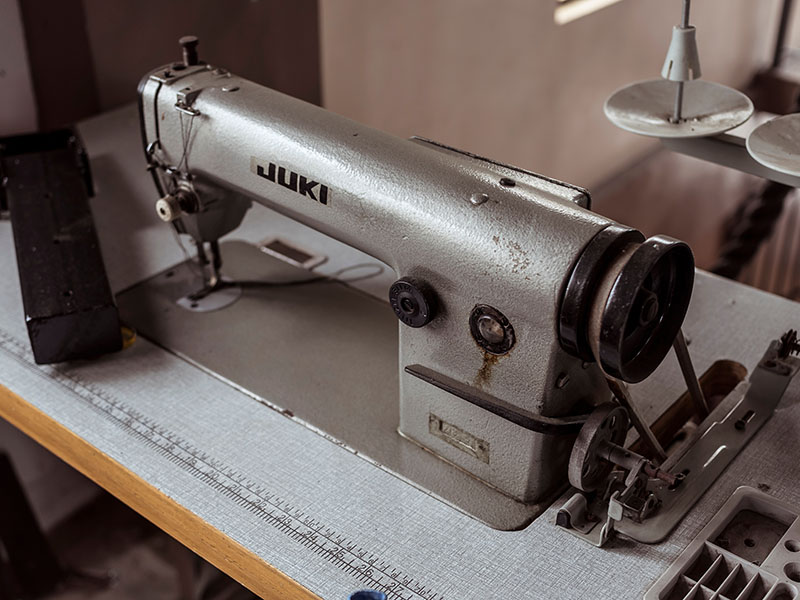 Juki is another Japanese sewing machine brand known for quality; they make both home (domestic) and industrial machines available worldwide. The first automatic needle threaders and trimmers were made by Juki.
Today Juki makes professional quilting machines, home and industrial sewing machines, sergers and coverstitch machines.
The price point for Juki is on the higher side, with compact and beginner-friendly models such as the HZL-353ZR-C Compact Size Sewing Machine priced at over $300. A domestic computerized sewing machine with 180 stitch patterns, the HZL-G120, has a suggested retail price of over $1000.
Watch and learn about Juki machines.
Pfaff was founded in Germany in 1862, and has been on the cutting edge of sewing machine technology. Their first computerized sewing machine for home use was in 1984!
Pfaff thinks ahead to what people need -and want- in a sewing machine. The focus is on what sewers want next in terms of sewing machine features for their creative work.
Pfaff currently has sewing, embroidery, quilting and long arm quilting machines available. Serious sewers will want to look into their IDT system that feeds fabric through both the top and the bottom for easier even sewing on tricky materials like velvet, knits, and thick fabrics.
Learn about the IDT system here.
Sewing machine dealers are where you will find these high-quality machines. On the high end, there is the award-winning creative icon embroidery machine with a large screen, extendable sewing machine bed with tons of features.
For beginners, there is the Smarter by Pfaff 140s which has all the main features a basic sewing machine needs.
Singer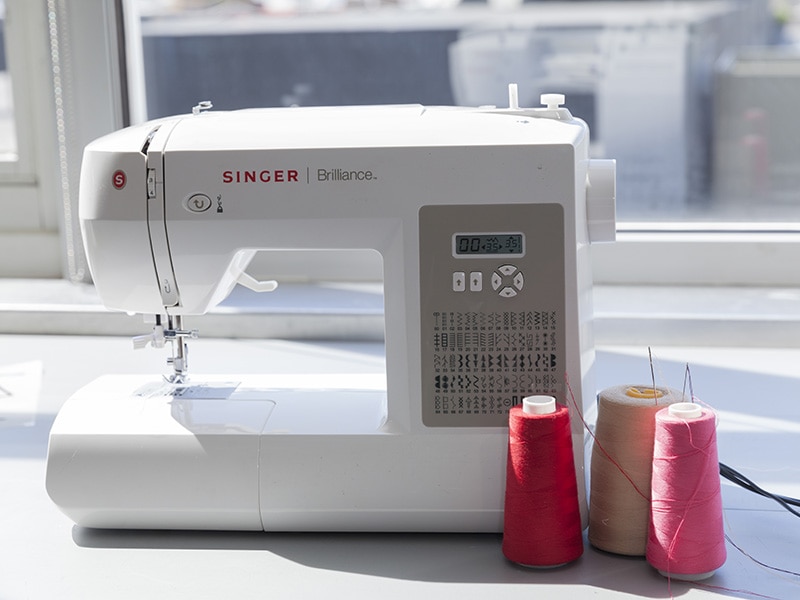 Singer sewing machines have been around since 1851, after the sewing machine was invented by Isaac Merritt Singer the year before. The brand is iconic as the first sewing machine company, and in 1890 had a 90% market share for sewing machines worldwide.
While Singer makes both industrial and home sewing machines, they are presently known for having affordable, beginner-friendly home sewing machines. Singer has more machines at entry-level price points than some of the brands above that are more high-end.
For beginners, there are machines like the M3500 Mechanical Sewing Machine which are decent entry-level machines. More experienced sewers might prefer the Singer Heavy Duty 4452 which sews faster and through heavier materials than some other models.
Watch the Singer Heavy Duty 4452 in action.
Husqvarna Viking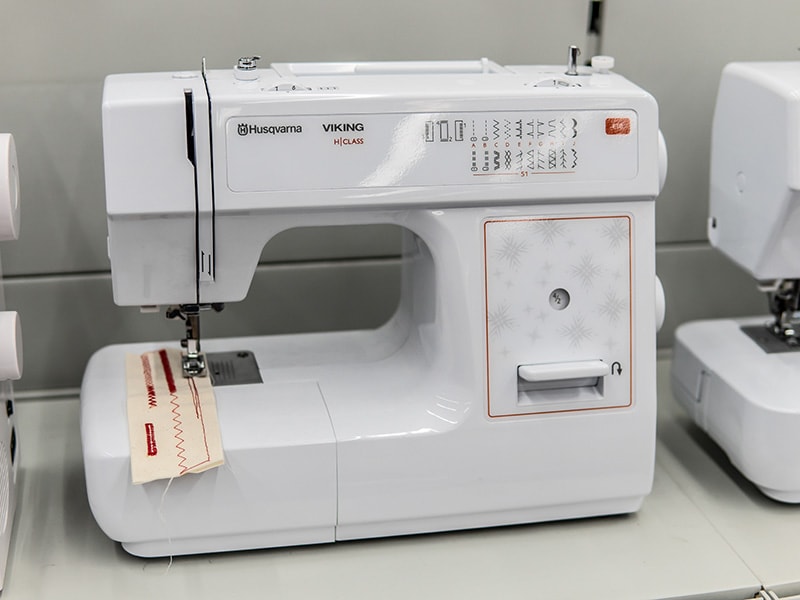 Husqvarna started in 1869 in Husqvarna, Sweden at a rifle factory that was seeing a decrease in rifle orders, and started manufacturing sewing machines instead. Their first sewing machine was the Nordstjernan (The Northern Star) in 1872.
Presently, Husqvarna makes sewing, embroidery, quilting, long arm quilting machines and sergers.
If you are looking for a basic sewing machine, check out the H Class E20 Sewing machine.
You should see the video below:
Other Sewing Machine Brands
These sewing machine brands are less common, but worth a mention:
Butterfly
EverSewn
Jia Ling
King Tex
Merrow
Sunstar
Fortuna
Mitsubishi
SWF
Usha
Yamoto
Jack Sewing Machine Company
Feiyue Group
Tacony Corporation
Toyota
Lucznik
Melco
Necchi
VI.BE. MAC. S.P.A.
Merrow Sewing Machine Company
Union Special
Sailrite
DAISEN
Tajima
Pegasus
Fucen
Sewing Machine Brands Comparison Chart 2023
I've gathered the most popular sewing machine brands into a comparison chart to look at some of the main things to consider when choosing a sewing machine brand.
If you are shopping for a sewing machine, keep in mind:
What are you going to use it for? There is no such thing as "the best sewing machine" for everyone, because people have different intended uses.
Get the best sewing machine for your budget, keeping in mind what features you actually plan to use. For example, if you are interested in fashion design, you probably don't need a quilting and embroidery machine. You would be better off getting a very high-quality machine with a few features instead of a lower-end embroidery machine for about the same price.
You get what you pay for – in most cases, more expensive machines are more durable and will last longer. However if you are only intending to do some basic clothing repair and crafts, you do not need the most expensive machine.
| Brand | Best For | Warranty | Price Range | Origin |
| --- | --- | --- | --- | --- |
| Baby Lock | Intermediate sewers who like extra features. | Warranties are available through Authorized Retailers only, not to online purchases. | Prices are not listed on the website, but in general Baby Lock is a mid-range brand. | Headquarters are in Japan, but manufactured in different countries: Japan, Thailand, Vietnam, Taiwan. |
| Bernina | Quilting and embroidery, although also a good choice for home garment sewers. | Not Specific | Expensive brand. Sold in US at dealers only, in Canada both online and at dealers. Most basic machines cost over $1000, some over $10,000. Bernina makes machines at a more beginner-friendly price point through their Bernette line. | Switzerland |
| Brother | Beginner to intermediate sewers | Most machines have a 25-year limited warranty. | Beginner machines are available for less than $200, while quilting and embroidery machines are over $500. | Japan |
| Elna | Clothing sewers and quilters | Warranties are included when purchased new through an Authorized Elna Dealer. | Beginner machines are available around $200-300, deluxe models are $1000+. | Switzerland |
| Janome | Beginner to advanced sewers and quilters | Not Specific | Beginner machines are around $200-300, and go up from there. | Japan |
| Juki | Intermediate to professional level garment sewers and quilters looking to invest in a top-quality machine | Not Specific | Most expensive of the popular sewing machine brands. Beginner models are $300+, while embroidery machines are $1000+ | Japan |
| Pfaff | Intermediate to advanced quilters and garment sewers | Not Specific | Beginner models are around $300-400 while the Ambition models can be upwards of $800. | Germany |
| Singer | Beginner to intermediate sewers on a budget | Warranty varies by model. Singer has warranty information available on their website: https://warranty.singer.com/ | Beginner machines are available around the $200 range; Heavy Duty machines are $300+. Quilting and embroidery machines are around $500+. | Singer is an American company, but made in China. |
| Husqvarna Viking | Garment sewers of all levels | Not specified | Beginner machines are around $300-500, while quilting and embroidery machines are in the thousands of dollars range. | Sweden |
What About Industrial Sewing Machines?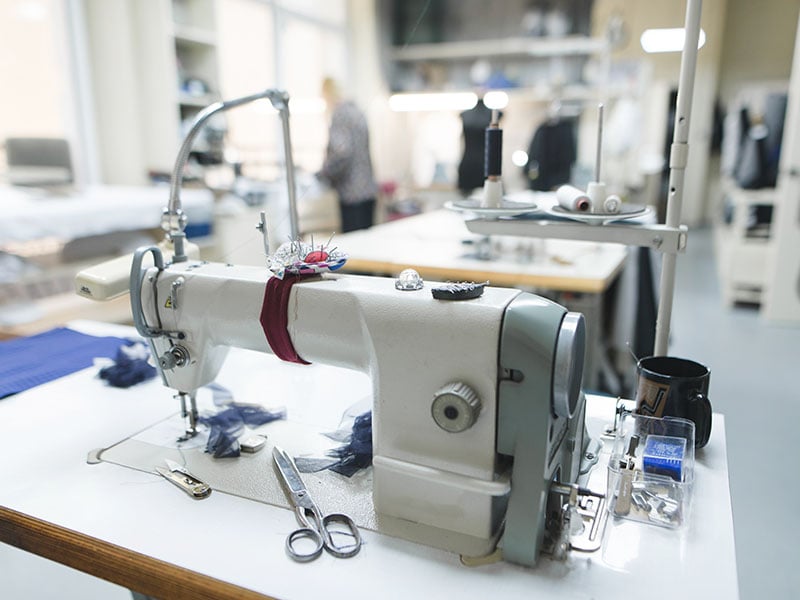 I decided to include industrial sewing machine brands on this list to make it more comprehensive, but there are a few things to note about industrial sewing machines.
For most brands that make industrial and home-use machines, the industrial machines are on a different part of their website than the home-use machines.
Brother for example has industrial sewing machines in the business solutions part of their website as they promote speed for manufacturing.
Do I Need An Industrial Sewing Machine?
Home sewers and hobbyists don't need an industrial machine. They typically cost thousands of dollars, are extremely heavy and built to last a long time with minimal extra features.
These machines sew much faster than home-use machines, and go through very thick fabrics such as materials for car seats, leather, and sails.
The bottom of the foot pedal (near the heel of your foot) works as a brake to stop the machine, and there is a knee lever that lifts the presser foot. These features allow for sewing faster in work settings where time is money.
Industrial machines are what they sound like – machines made for industry. Often referred to as just "industrials" by people who use them for work, they can last for decades with heavy use.
Typically, they just do one type of stitch – there are specialized machines for sewing different features for a factory. Regular straight stitch machines are referred to as a "lock stitch" when speaking about industrial machines.
Industrial sewing machines are typically built into a table so there is a large working surface, with no free arm. Underneath the machine is a bed of oil. The large table, oil bed and very heavyweight make industrials difficult to move around.
A truck would be required for transport; you could not put it in the trunk of a car and you would want to keep it upright or the oil in the oil bed might leak and make an oily mess.
What Industrial Sewing Machine Brands Are The Best?
Singer, Brother, Juki, Toyota and Mitusbishi all make industrial sewing machines. I have worked with a few at different tailor shops and wardrobe departments, and my favorites have been Brother, Juki and Mitusbishi.
Some of these look very similar to each other, but I've found the Juki and Brother easiest to control the speed of. They are all very fast with strong motors, but some have very sensitive foot petals that make the speed harder to control.
Brother makes industrial straight stitch, buttonhole, bar tack and embroidery machines. I've found Brother machines some of the easier industrial machines to control the speed of.
If a company is known for making cars but also makes industrial sewing machines – they are going to be strong machines! I've found Mitsubishi sewing machines to be smooth to use. They make lockstitch machines and electronically controlled pattern machines.
Juki is known for quality with their domestic and industrial sewing machines. These machines are an investment, but you do get a quality machine that will last a very long time.
Juki manufactures a variety of industrial sewing machines – lockstitch for apparel, coverstitch, and specialized digital industrial machines.
Other Industrial Sewing Machine Brands
Union Special
Singer
Sailrite
Daisen
High-end Sewing Machine Brands
Many of the most popular sewing machine brands have high-end machines available. While researching this article, I kept a list of the most high-end machines I could find.
In general, the sewing machine brands with high-end models are:
Bernina
Janome
Juki
Elna
Babylock
Pfaff
Husqvarna Viking
High-end Sewing Machine Models
High-end sewing machine models are full of features to make sewing easier, but aren't strictly necessary for sewing. Most are computerized, as this allows for extra features. Embroidery machines are typically the most expensive home sewing machines.
Common features on high-end machines are automatic thread cutters, programmable needle up/down, air threading, lots of stitches, programmable embroidery designs.
Bernina machines are known to be high-end – they even have ones with Swarovski crystals! The Bernina 880 Plus Crystal Edition is a deluxe embroidery machine decorated with crystals.
However, not every high-end machine needs crystals!
Janome has an award-winning serger, the Air Thread 2000D, which threads the serger with air. This high-end serger won the iF Design award in 2019 and the Good Design award for making a serger that threads the trickiest parts with the push of a button and puff of air. It retails for over $1500.
Juki is known for exceptional quality, and most of their machines are priced on the higher end. For those interested in high-end machines, check out the TL-2020 PE Platinum Edition.
This collectable machine has a platinum finish, and only 2000 were made for the US. A precision machine with some industrial features, with an aluminum exterior. Absolutely beautiful machine for the most serious of sewers.
Elna has a few high-end machines. Embroidery enthusiasts will want to have a look at the embroidery-only machine, the eXpressive 380L. This machine has a larger hoop than most sewing and embroidery combo machines.
Baby Lock machines are known for having a lot of bells and whistles, like air threading. There's nowhere that air threading is more useful than in a serger! The Triumph has air threading technology to thread the loopers with one touch of a button, then another button to thread the needles for the ultimate in sewing convenience and time-saving.
Pfaff has a few high-end embroidery and quilting machines with large LCD touch screens that look like a tablet and dual-feed technology. Check out the performance icon Sewing and Embroidery Machine.
Husqvarna Viking has a very high-end embroidery machine: the Designer Epic 2 Embroidery Machine. It has over 750 built-in embroidery designs and ribbon attachment capability, among other deluxe features.
Best Used Sewing Machine Brands
It is a misconception that the best sewing machines are brand new. In fact, if you don't need a digital or embroidery machine, buying a used machine can be a good choice. This is especially true for beginners and those on a budget.
Some of the machines in the list below are in the most popular category, but I'm also including old sewing machine brands that are no longer being produced.
Things to Know About Old Sewing Machines Before You Buy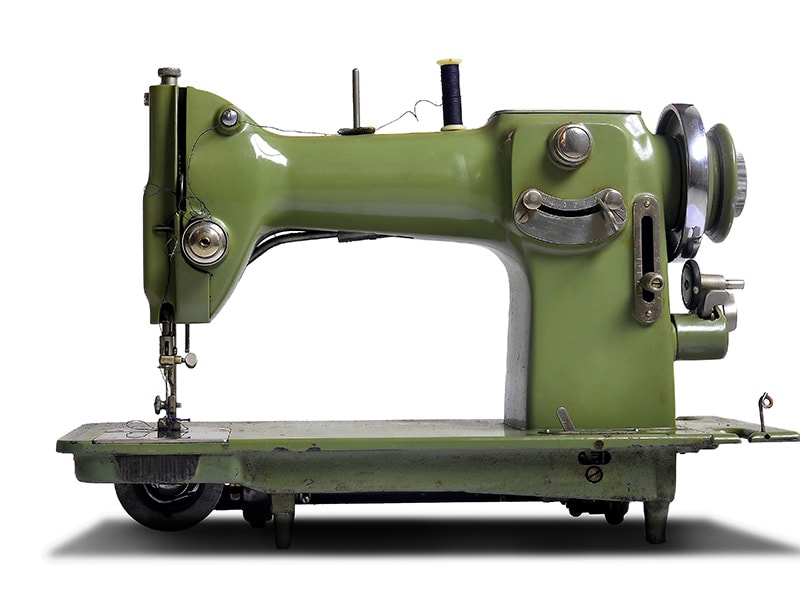 If you are buying an old sewing machine, make sure it is in good working order. It is also a good idea to get it serviced by a professional in your area for a tune-up. Vintage sewing machines were built to last, but they do need cleaning and service from a sewing repair shop from time to time.
Old sewing machines are less likely to have features like automatic thread cutters and needle threaders. However, the heavier the machine, usually the easier it will sew through heavier material such as denim. Old machines have more metal parts than most new ones, so if you are looking at a machine on a budget that will handle heavier fabrics, this can be a good choice.
Buying a second-hand sewing machine is a great way to get a high-quality machine for a lower price, so you want to go for some of the best and sturdiest brands here. Avoid lightweight plastic used machines unless they are very new or you only need a very basic machine for light use.
Best Used Sewing Machine Brands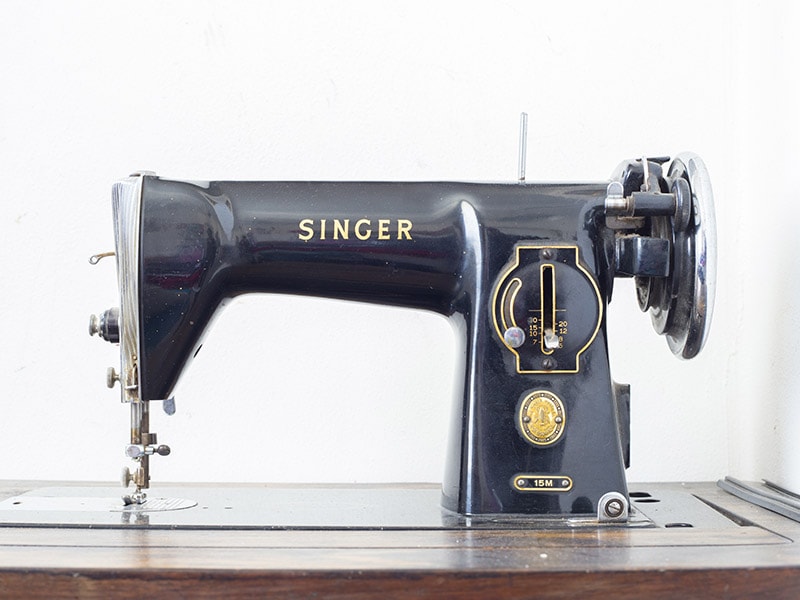 Older Singer Machines: Older Singer sewing machines (pre-1995) are built more sturdily than the newer lightweight models.
Kenmore: These machines are no longer being manufactured, but old Kenmores are dependable machines. Kenmore was manufactured by Janome, and if you need a new part, a Janome part is usually compatible. I have an old Kenmore that I use often.
Janome: Janome machines are usually excellent quality; a used one in good condition would be a good buy.
Necci: An Italian sewing machine company, they have some beautiful vintage sewing machines.
Juki: Another high-quality sewing machine brand, you would be lucky to find a used Juki for a good price!
Bernina: Bernina machines are beautifully made
Elna: This brand was known for innovation in the 20th century, I think some of these old machines with features that were new at the time would be fun to use!
Baby Lock: Baby Lock sewing machines are known for having lots of extra features like automatic needle threaders, air threading. If the machine you are looking at has these features, check to make sure that they are still working before you buy.
Industrial sewing machines of any brand: If you are someone who uses a sewing machine for income but you are not a part of a large business, this can be a good choice.
Industrials can last for decades with proper maintenance and care, and you will be able to sew more materials much faster. Industrials are very expensive, and getting a used one can be a great choice for sewing artisans, makers, tailors.
Best Quality Sewing Machine Brands
While most brands offer higher and lower-priced models, some are known for producing the most consistent quality machines at all price points. Below are the best-regarded in terms of quality and durability:
Janome: Japanese manufactured machines known for being good quality, easy to use, good value.
Juki: Juki is known for excellence and dependability. Juki is a very well-regarded brand among people who sew. These machines tend to be quite expensive.
Bernina: Swiss-made, these machines are beautiful and last for a long time. Bernina machines are an investment for people who are serious sewers.
Bernette: Bernette is manufactured by Bernina to be a more affordable version of Bernina machines. They are designed to be a good value for the price-conscious consumer.
Baby Lock: Baby Lock machines are known for having lots of extra features to make sewing fun and enjoyable experience. Features like air threading, advanced pivoting, and advanced needle threading are some of the fun things built into some of their machines.
Pfaff: German engineered sewing machines, these quality machines are available at different price points for different consumers. There are beginner-friendly machines available, as well as machines for fashion designers with Integrated Dual Feed technology, which feeds fabric under the presser foot for even, beautiful stitches.
Best Sewing Machine Brands for Beginners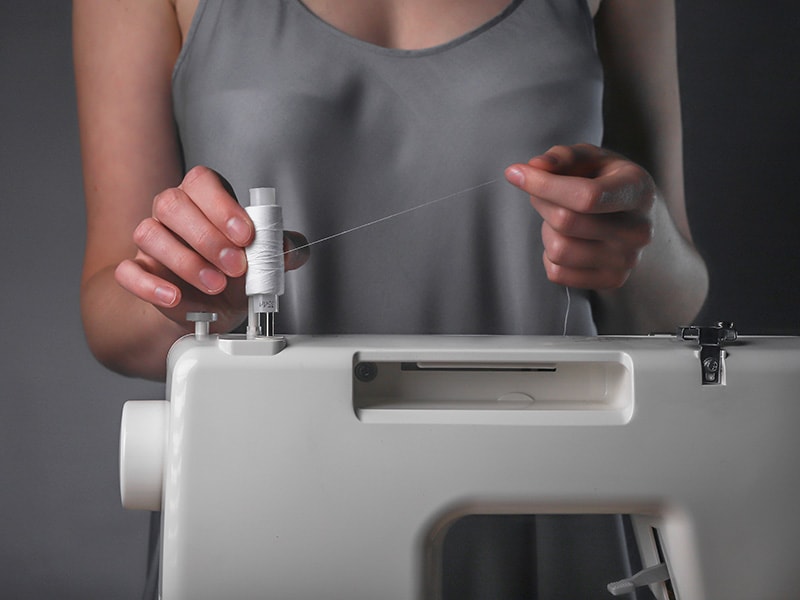 If you are a beginner, you don't need a machine with all kinds of features and a million stitches to learn. You also probably don't need to make a big investment yet.
If you are new to sewing, start with a machine that is fairly basic to use, and then upgrade if you find yourself wishing you had the extra features and think you would actually use them.
Singer: Most of Singer's machines are suitable for beginners and are priced on the lower side. There are lots of different models to choose from, depending on what features you need and what you plan on using your machine to sew.
Brother: Brother offers good value machines for your money. Again there are some more deluxe and expensive models out there, but there are lots of beginner-friendly models available.
Bernette: This is the lower-end brand from Bernina. You can still get yourself a good quality machine, but for a lower price and fewer fancy features.
Janome: Quality brand from Japan. Janome has a range of beginner-friendly, easy-to-use machines without tons of features to learn.
Baby Lock: For a beginner sewer who wants to spend time learning the features that can make sewing easy and fun. However, these do cost a bit more than brands like Singer and Brother.
Best Sewing Machine Brands for Quilting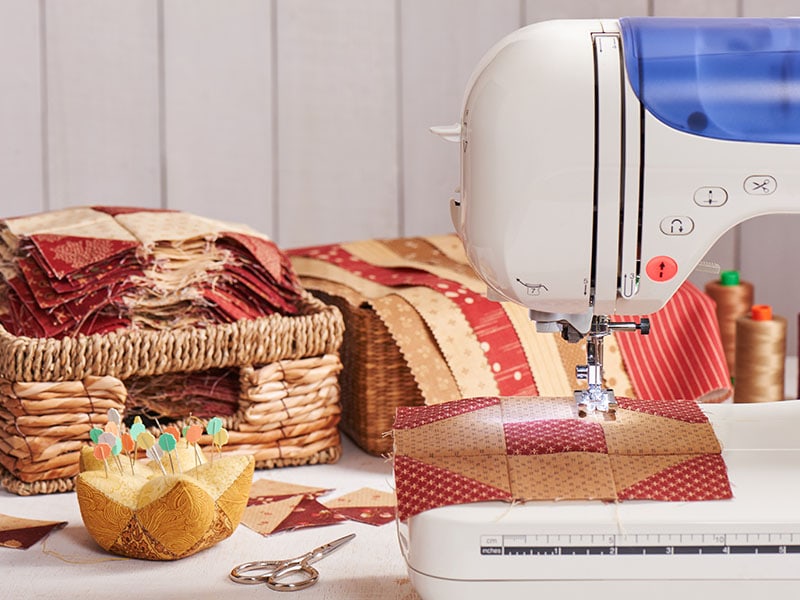 Quilters have slightly different sewing machine needs than people who only sew clothes. There are also some combination sewing and quilting machines available, as well as machines designed just for quilting.
Quilting-only machines are specialized and tend to cost more than sewing and quilting combination machines.
Some features to look for in a machine that will make quilting easier are:
Ability to sew thicker fabrics: Quilts can be heavy to sew through
A wide table attachment for the machine for the quilt to rest on while sewing
Decorative stitches
A walking foot or other feature to sew over thick fabric evenly
Wide throat plate to allow for extra room to sew a large quilt
Brother: A reliable brand that has a variety of sewing and quilting combination machines available. They also have specialized quilting machines just for quilting, with features like extra-wide throat plates and ability to sew through very thick materials.
Brother sewing and quilting machines are at the lower end of the price scale compared to other brands on this list.
Pfaff: Pfaff has some fairly high-end quilting and embroidery machines available. High-end quilting features include Basic Shape Creator feature, which allows you to design embroidery right on the machine's LCD screen. Also look for machines with their IDT feature – Integrated Dual Feed makes sure that thick fabrics are sewn evenly.
Elna: Elna has machines built for quilters with features such as professional-grade foot and needle place for easy small turns; built-in thread cutters; and Stitch Composer Software to design your own decorative sewing stitches!
Bernina: Bernina is known for quality machines that sew very well. They make combination sewing and quilting machines, quilting machines, and long arm quilting machines. Most of these machines are very expensive, but there are a couple that are developed for more entry-level quilters (but they still aren't cheap!)
Janome: Janome has quite a few combination sewing and quilting machines to pick from, as well as some long arm quilting models. Since there are so many models to pick from for quilting features, there are quality machines at a broader variety of price points than some other high-end brands (such as Bernina, which are all quite expensive).
Best Heavy Duty Sewing Machine Brands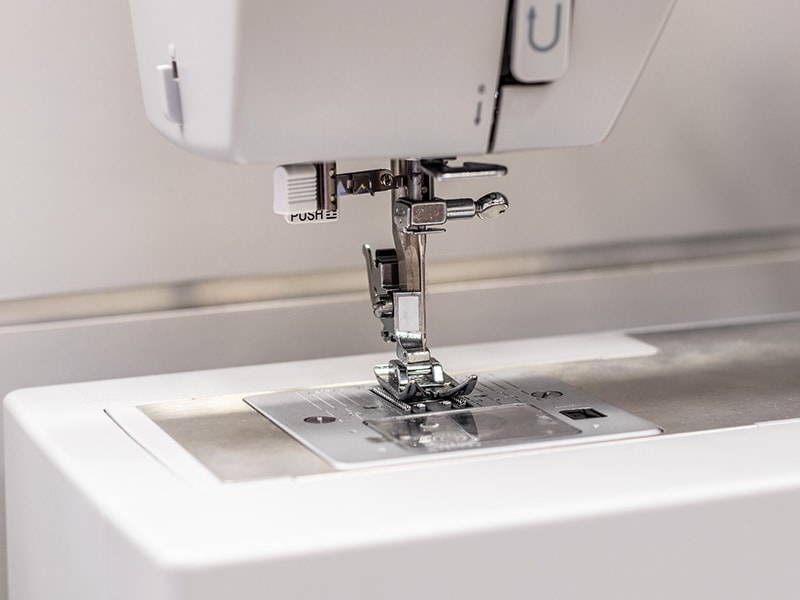 Next, we will cover some of the best heavy-duty sewing machine brands. Some brands have a variety of heavy-duty machines to pick from, while others only have a few very select "Heavy Duty" models to choose from.
If you aren't sure if a machine is heavy-duty or not, often the physically heavier a machine is, the better it sews through thicker material. This is why some people love vintage machines, they are typically very heavy (more metal parts than a lot of new machines which have more plastic parts) and do well sewing through materials such as denim.
If you are looking for extremely heavy-duty sewing machines that just sew in a straight line, check out the section on industrial sewing machines instead. This list is for domestic heavy-duty machines and brands.
Janome: Janome has a few machines available which are specifically labeled as Heavy Duty. Most of their mid-range and above machines handle heavier materials fairly well (denim, canvas, etc) but if you plan on sewing very heavy materials most of the time, look for something specifically labeled Heavy Duty.
Juki makes some very strong domestic machines (they also come with a big price tag). Juki machines are known for exceptional quality and durability, which makes them a good choice for someone who is serious about sewing tough materials often.
Singer Heavy Duty: Overall I would not consider Singer a heavy-duty brand, but their Heavy Duty machines are suitable for home sewers who have some tough fabrics to go through from time to time.
Brother Heavy Duty/Strong and Tough machines: Similar to Singer, I wouldn't call Brother machines a heavy-duty brand. However, they have some heavy-duty machines available, some called Strong and Tough that are good for home sewers who want to handle heavier fabrics like denim, upholstery, canvas, etc.
Sewing Machine Brands Summary
Most brands have a variety of sewing machines available at different prices and with different features. Some brands are known for being of exceptional quality with a price tag to match (Bernina, Juki), while others are more suitable for casual home sewers (Brother, Singer). Elna and Baby Lock strive to make sewing fun with lots of extra features.
The most important thing to keep in mind when choosing a sewing machine brand and model is your sewing intent – how often do you plan to sew, what features do you need for what you want to make? Then look at the machine that best suits your needs for your budget.
I hope that was a helpful overview for you of sewing machine brands.
What is your favorite sewing machine brand? Let us know in the comments below.