Want to know how to sew your own unique kimono jacket? With this article, you can definitely make one with color, texture, and pattern to your liking.
You will find in this post which tools you need to prepare and detailed steps on how to make a kimono jacket. I will also show you the most appropriate way to take care of kimono jackets.
How Many Steps Are Needed To Make One Kimono Jacket?
There are 7 steps in total. Below is the basic version of all 7 steps.
Step 1: Fold the fabric
Step 2: Mark the fabric
Step 3: Cut the fabric
Step 4: Cut out the front opening of the kimono jacket
Step 5: Make a neckline opening
Step 6: Sew the seam
Step 7: Secure the raw edges
Keep on reading for more specific information in each step!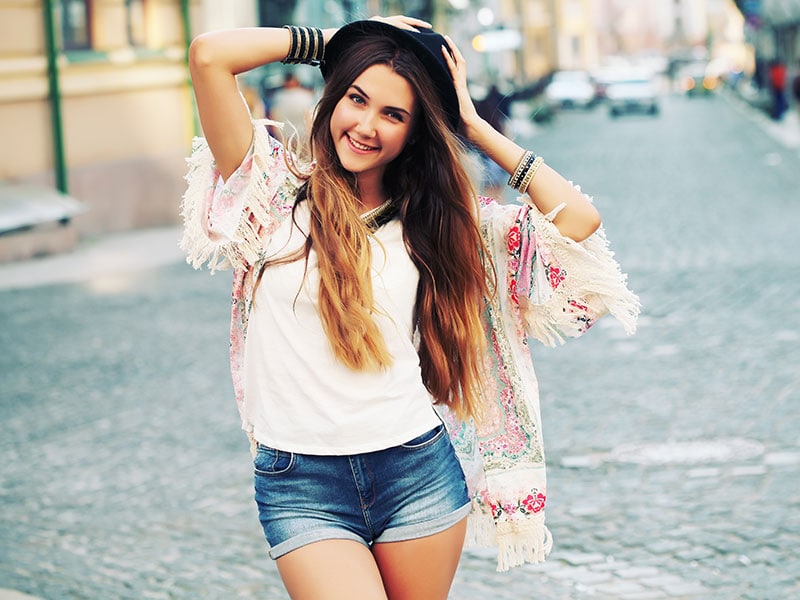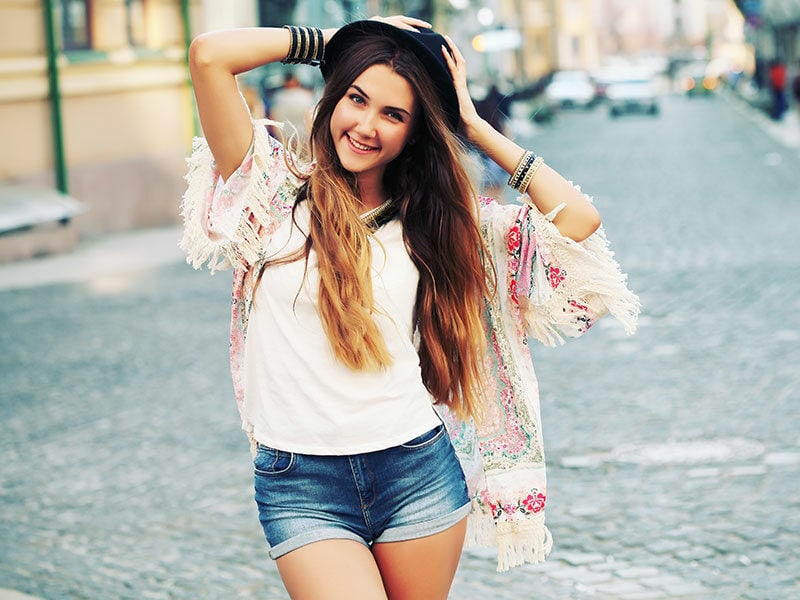 What Is A Kimono Jacket?
Kimono is the name of traditional Japanese clothing. It ranges from simple one-layer kimonos, such as yukata, to royal ones with up to 12 layers. Today, most Japanese wear kimonos on special occasions like weddings, graduations, New Year festivals, etc. (1)
However, with numerous non-Japanese, wearing a traditional kimono is a tiring and challenging process. That's why many modern, stylish variations of kimono are born. And kimono jackets are one of them.
Kimono jackets look like sheer and airy cardigans with different materials. You can wear a kimono jacket almost on every occasion. It can go with T-shirts or tank tops for hangouts with friends. Wearing a kimono jacket over a bathing suit is a creative cover-up. (2)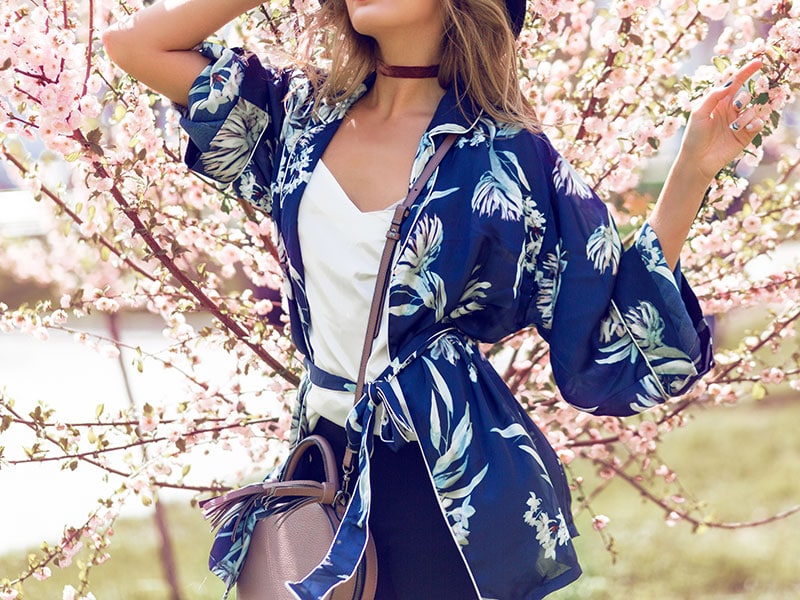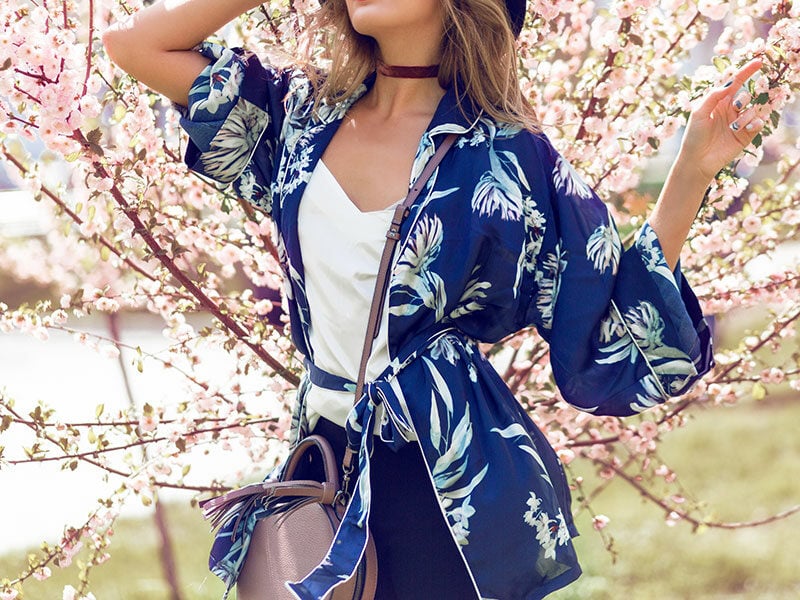 A gorgeous kimono jacket with a simple dress will be a beautiful combination for parties. Do you know what's the best? A kimono jacket doesn't cost as much as a traditional kimono. You can even make one yourself.
With this video, you can effortlessly style your kimono jacket to your preference:
Necessary Tools To Sew A Kimono Jacket
Sewing a kimono jacket only requires these essential tools below:
The fabric of your preference
Measuring tape or ruler
Sewing machine
Matching thread
Needle
Sewing pins or clips
Fabric scissors or a rotary cutter and a cutting mat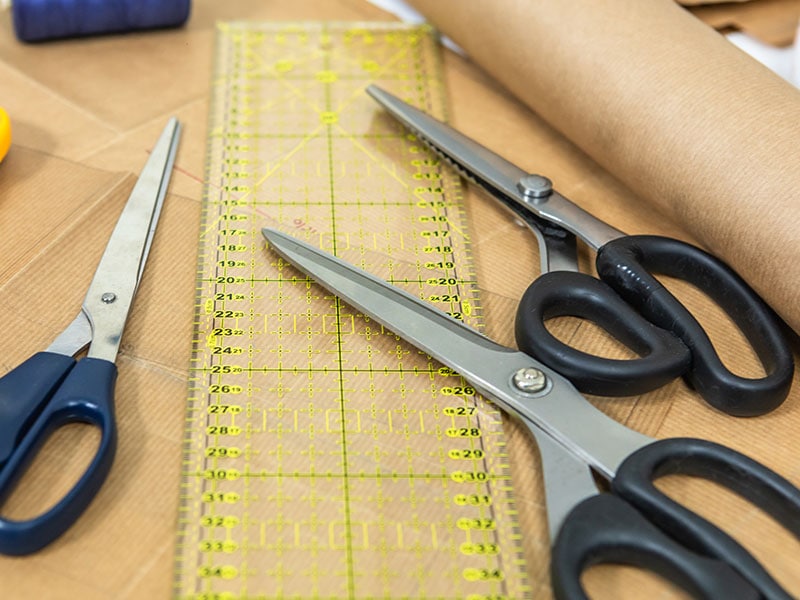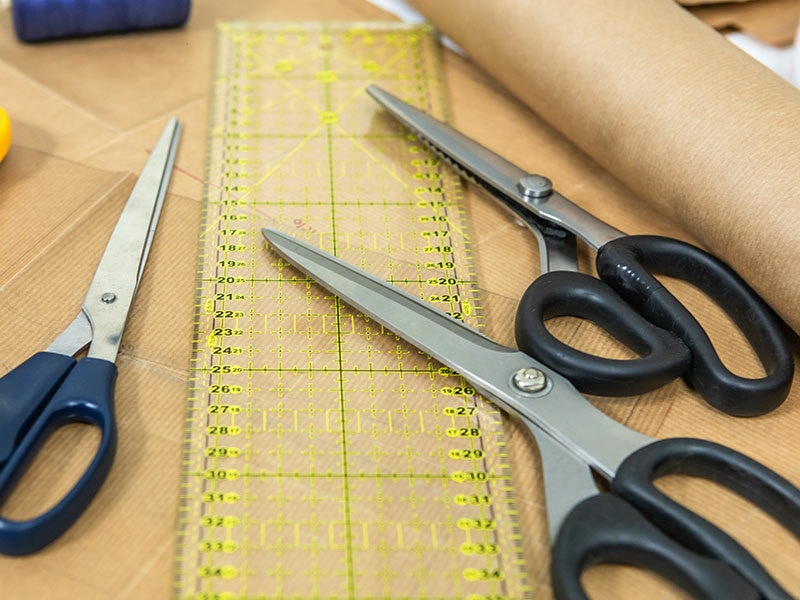 Note
Choosing tools to sew a kimono jacket is not challenging. However, there are some notes you should pay attention to:
For the sewing machine, you can use any device. It doesn't have to be an up-to-date sewing machine. In fact, hand sewing can do just fine, although it would take more time.
You should choose a floaty and drape-like fabric for the best result. Options are various: chiffon, silk, sheer, lightweight satins, and many more.
The typical measurement for the fabric piece would be 40 x 55 inches. With this measurement, your kimono jacket will go all the way down your hip or lower. To get the most precise value, you can ask the store to do it for you.
7 Steps To Sew A Kimono Jacket
If you have prepared all the suitable materials, it's time to make your own beautiful kimono jacket.
Step 1: Fold Your Fabric
First, fold the fabric in half. Make sure the shorter edges alight together. Also, the backside of your fabric should face out.
Lightweight material like chiffon or silk is easy to skip, so you can use pins or clips to keep them in place.
Step 2: Mark The Fabric
Along with the short outer edge (not the folded side), make a mark 12 inches away from the edge at the top of the fabric. From that mark, draw a line about 9-inch in length to the outside, perpendicular to the edge.
At the end of that line, draw a line going to the bottom, make it at a 90-degree angle with the former line. The result should be an upside-down L on your fabric.
Repeat the same process with the other side of the fabric.
Step 3: Cut The Fabric
Cut through the layers of fabric along with the line you've just drawn. Try to make it as close as possible to the seam. Your material should have a large T shape after unfolding.
Redo the steps 2 and 3 for the back of your kimono jacket.
Step 4: Cut Out The Front Opening Of The Kimono Jacket
To have a perfect opening for your kimono jacket, make a chalk line in the fabric center. Draw a line from the longer edge of your fabric straight down to the bottom edge.
Cut through the fabric along the line. However, remember to cut only the front layer. Leave the back whole. Now, you have the opening of your kimono jacket.
Step 5: Make A Neckline Opening
If you are satisfied with the opening from step 4, you can skip this step. However, if you want a softer, more open neckline, keep on reading.
First, make two marks 2-3 inches away from the center chalk line on the shoulder line, one's at the left of the chalk line, one's at the right. Then, mark 10 inches below the shoulder line right in the centerline.
Draw a line from each mark on the shoulder line to the spot in the centerline. Your neckline opening should look like an ellipse.
Step 6: Sew The Seam
Fold the fabric so that the backside is facing out and all the edges align together. Then use a half-inch seam allowance stitch to sew the side and underarm seams together.
You can pin the cut area to keep your fabric in place. Make sure to remove the pins as you sew.
Step 7: Secure The Raw Edges
Fabric always has raw edges, and you need to hem them all. Use the pins to secure all the areas that need hemming. Then use a rolled hem foot.
However, if you don't own one, you can still complete this step by folding these raw edges then stitching them. You should fold them by ⅛ inch and then another ⅛ inch.
Press the folded edges flat and sew all around them. Don't forget to sew around the bottom edges, the kimono opening, and both of the sleeve openings.
Now secure the raw edges on the sleeves and the side. You can use mock serger stitches or zig-zag stitches to finish them. (3)
After all these 7 steps, you can use a pair of scissors to trim all the excessive threads. Then iron your kimono jacket for a better look.
Watch this video: Click right in this video to see how to sew a kimono jacket step by step!
How To Take Care Of Your Kimono Jacket
After all the hard work to make one yourself, you certainly want to retain your kimono jacket as long as possible. And here I will show you how.
Washing
Every piece of clothing needs to be washed, and kimono jackets are no exception. However, how you clean it depends mainly on the material. In this part, I will focus on the two most common materials: cotton and silk.
Cotton
For a cotton kimono jacket, you'd better wash it in cold water with a gentle detergent. Then, put your washing machine in a delicate setting to avoid ruining its texture.
Silk
With kimono jackets made of silk, the most appropriate option is to take them to the dry cleaner. A professional will know how to deal with this delicate material. However, if you insist on washing it yourself, then remember to only hand wash it.
Use cold water and a little non-alkaline detergent to gently wash your kimono jacket for about 1-2 minutes.
Drying
Don't put your kimono jacket into a dryer. Let it hang outside on a cloudy day to avoid direct sunlight as it can discolor your coat.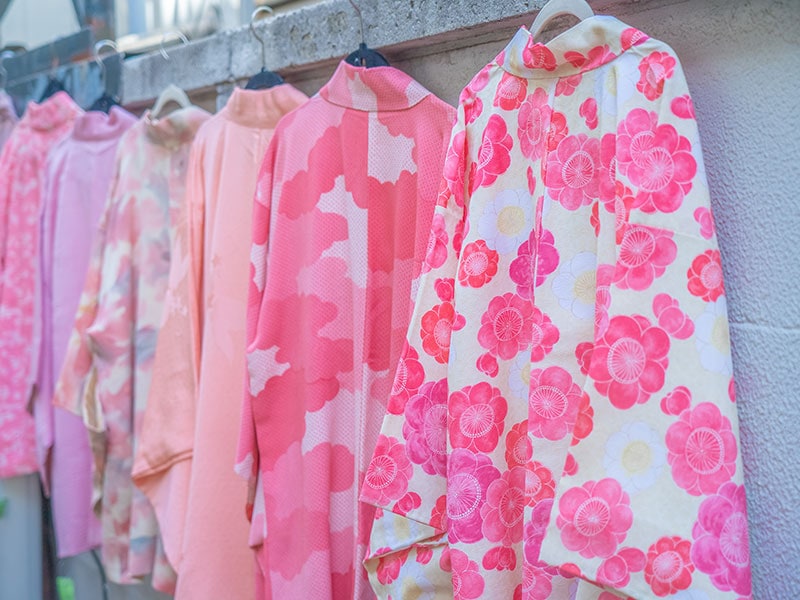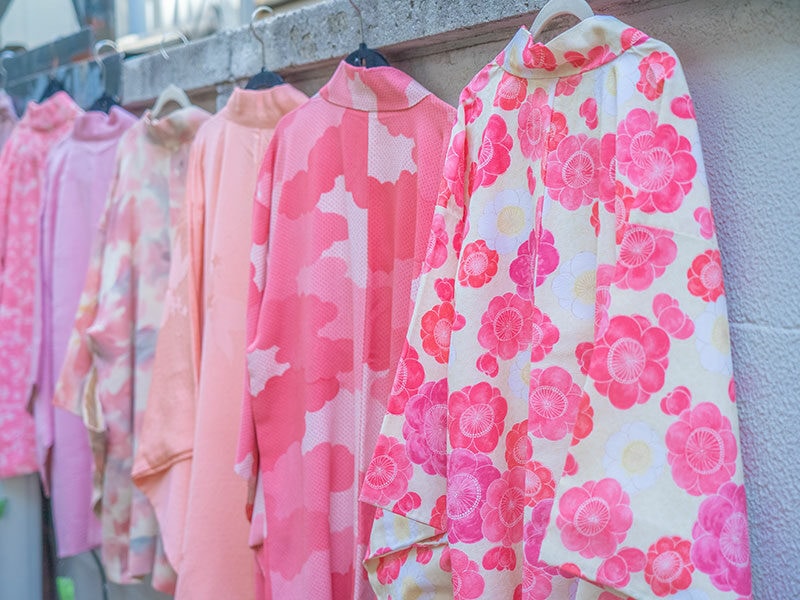 Caring And Storing
In terms of straightening your kimono jacket, steaming is better than ironing, as high temperatures can easily ruin the fabric's texture and quality. However, when you can't avoid ironing this jacket, keep the temperature as low as possible. And only iron the inner side.
You should keep kimono jackets in a cool, dry, and dark place as they will fade when exposed to sunlight.
Frequently Asked Questions About Kimono Jackets
All the tools and steps may sound easy to follow. But I bet you are still wondering about some troubles. Keep on reading as in this part, I will answer the most frequently asked questions about kimono jackets.
Additional Information
You can distinguish the kimono jacket's fabric by comparing it to other garments in your closet. Sometimes, you can even look at its texture to find out. The higher-quality material is, the more likely you should bring it to the professional cleaning.
Now, you've known one or two things about sewing a kimono jacket. If possible, please put your result in the comment section below. And you can share this article with your relatives so that you guys can help each other make kimono jackets.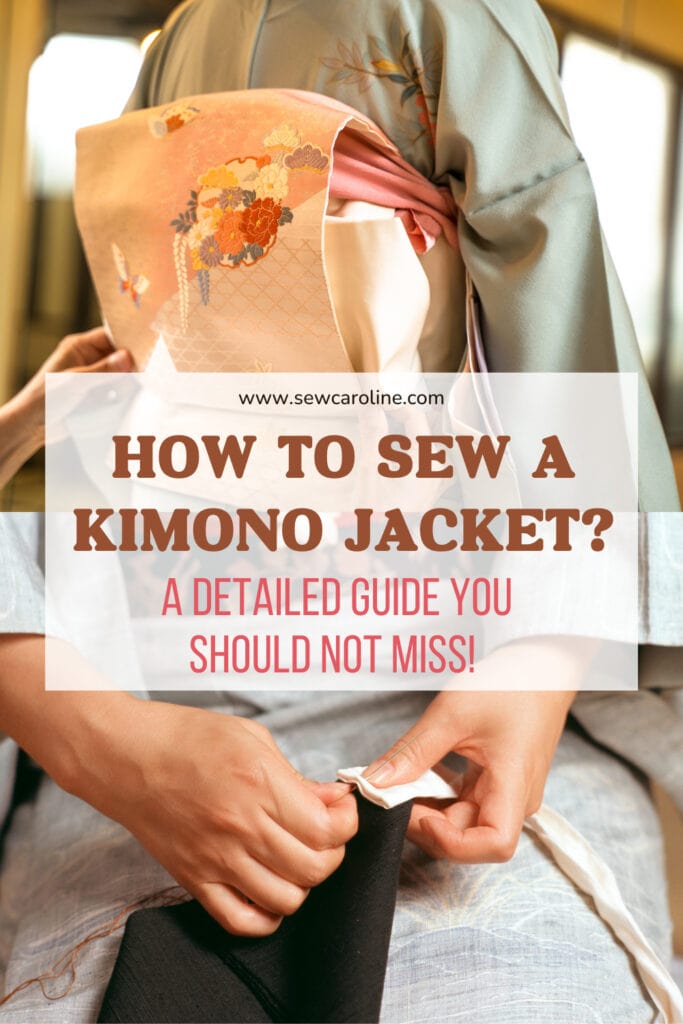 References
En.wikipedia.org. 2021. Kimono – Wikipedia.
kimandono.com. 2021. The Rise of the Kimono Jacket.
Wikihow.com. 2021. How to Sew Kimono: 15 Steps (with Pictures) – wikiHow.